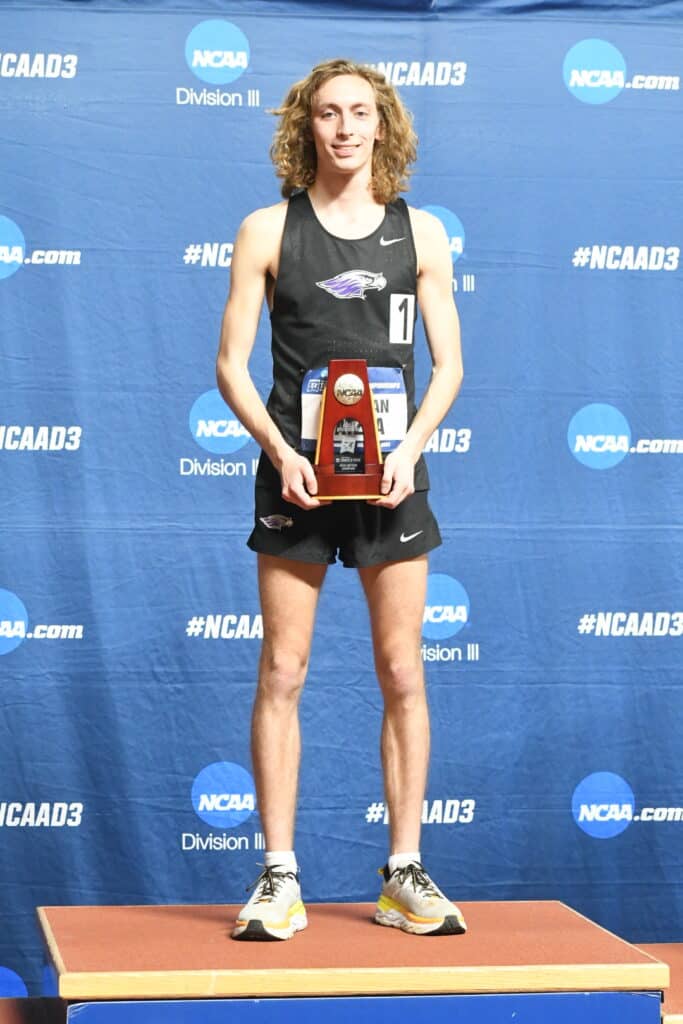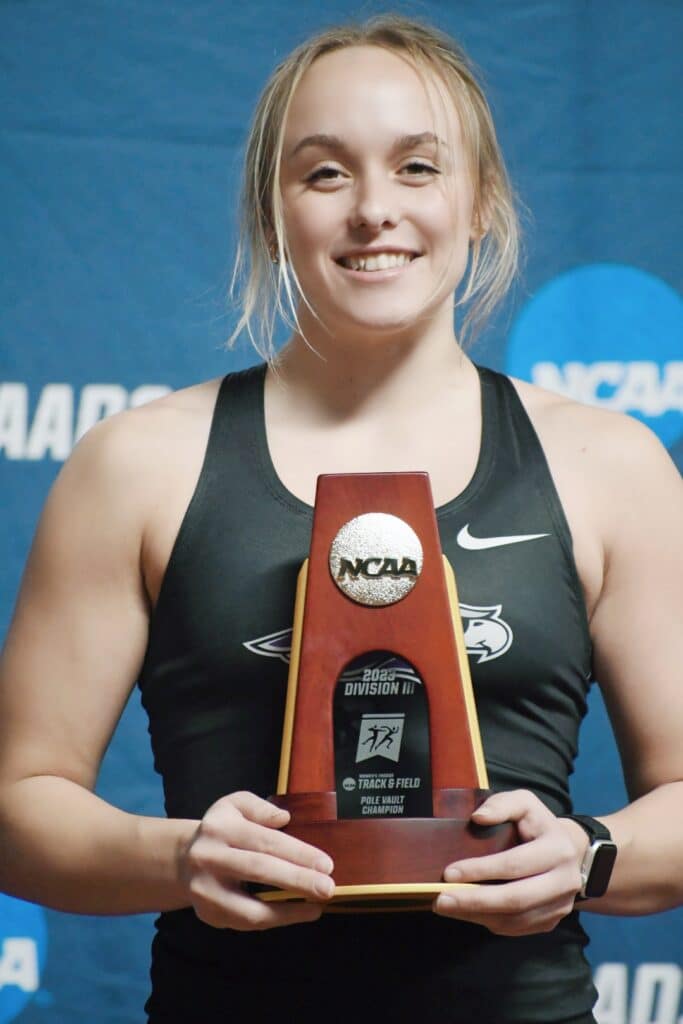 By Angela Kelm
Assistant Athletic Director for Sports Information
Birmingham, Ala. — Warhawks Gracie Holland and Christian Patzka Claim National Titles at Indoor Track & Field Championships
Sophomores Gracie Holland (Marshfield, Wis./Marshfield) and Christian Patzka (Black Earth, Wis./Wisconsin Heights) claimed individual national titles on the first day of competition in the NCAA Division III Indoor Track and Field Championships Friday. Holland secured gold in the pole vault while Patzka crushed the meet record in the 5,000.

Holland matched her career-best, which is also the best in Division III this season, with a height of 4.00 meters (13-1.5) in the pole vault Friday. That mark is among the top ten recorded in championship meet history. Holland is the first Warhawk to claim the indoor national title in the event and fourth to win an individual title in the history of the UWW women's program. She is now a two-time indoor All-American in the event after finishing fifth a year ago.

Patzka crushed the 29-year-old championship meet record in the 5,000 Friday. Crossing the line in 13:47.01, he shattered Dan Mayer's clocking of 13:53.17 from 1994. Patzka is now a two-time indoor All-American in the event after finishing fourth in 2022. He'll be back in action Saturday competing in the 3,000-meter run.

Patzka's distance teammates Gunner Schlender (Brillion, Wis./Brillion) and Justin Krause (Ixonia, Wis./Pewaukee) joined him in action Friday. Sophomore Gunner Schlender (Brillion, Wis./Brillion) posted a time of 14:23.20 in the 5,000 to finish just outside the top eight. Krause posted a career-best 4:08.17 to time qualify for the finals in the mile.

Sophomore Tina Shelton (Janesville, Wis./Parker) had to start her 60-meter prelim twice after a fellow sprinter false started. Her clocking of 7.67 was 12th in the prelims of the event. She added a personal record of 25.06 in the 200 Friday evening to finish 17th.

Marlon Cystrunk (DeForest, Wis./DeForest) was also in action on day one. The sophomore registered a time 8.39 in the 60 hurdles for 19th in the prelims of the event.
_______________________________________________________________________________________________________________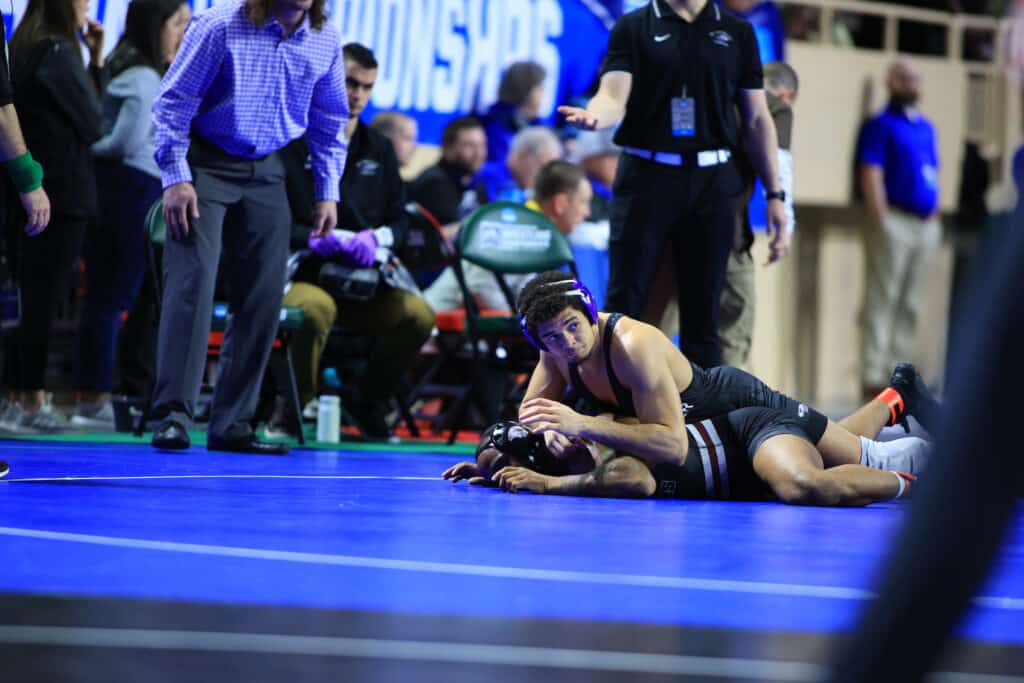 Angela Kelm
Assistant Athletic Director for Sports Information
Roanoke, Va. — Warhawk Senior Jaritt Shinhoster Continues Path to Defend 184 Pound Title
University of Wisconsin-Whitewater senior Jaritt Shinhoster (Hoffman Estates, Ill./Barrington) punched his ticket into the semifinals of the 2023 NCAA Division III Wrestling Championships to secure All-America honors for the third time in his career. Jake Burford (Crown Point, Ind./Crown Point) and Dominik Mallinder (Roselle, Ill./Lake Park) were also in action in the opening day of nationals in Roanoke, Va. Friday.

Shinhoster, the defending national champion at 184 pounds made quick work of his first bout on the day. Pinning Isaac Cory of Penn College of Technology in just 40 seconds, he registered his fifth consecutive fall. Shinhoster went the distance in his quarterfinal bout but still picked up the bonus win defeating Mahlic Sallah of Roanoke College by major decision 12-0. Top-ranked Shinhoster will face fifth-ranked Donovan Corn of Luther College tomorrow morning.

Burford had a tough draw at 149 pounds opening with the second-ranked wrestler from Johnson & Wales, Hayden Brown. The senior bounced back from a first-round fall to defeat Daniel Uribe of Wabash by 9-6 decision. In his first bout of the evening session Friday, Burford topped Chris Perry of Trinity (CT) before falling to eighth-ranked Chase Sumner of Ohio Northern. Burford, the 2023 Wisconsin Intercollegiate Athletic Conference champion and Upper Midwest Regional runner-up, ends the season with a 32-9 mark after making his third trip to the national championship.

Mallinder had a phenomenal freshman campaign for the Warhawks. The 2023 WIAC champion, Mallinder qualified for his first trip to nationals with the Upper Midwest Regional crown. Despite going 0-2 Friday, Mallinder's 31 wins in his first season competing collegiate speak for themselves.
The 2023 DIII Championship will conclude with a morning and evening session Saturday.