By Angela Kelm
Asst. Athletic Director for Sports Information
Birmingham, Ala. — UW-Whitewater Track and Field: Men 8th, Women 23rd as Three Warhawks Earn All-America Honors Saturday
Three University of Wisconsin-Whitewater men's track and field athletes captured All-America honors at the 2023 NCAA Division III Indoor Championships in Birmingham, Ala. Saturday. The Warhawk men finished eighth in the final team standings marking the program's 10th top 10 finish at the indoor championships since 2010. The Warhawk women were 23rd with 10 points from Gracie Holland's (Marshfield, Wis./Marshfield) individual title in the pole vault.
Sophomore distance runner Christian Patzka (Black Earth, Wis./Wisconsin Heights) claimed his second All-America honor of the indoor championship with a fourth-place finish in the 3,000. A day after capturing the national title in the 5,000 in championship record time, Patzka competed in a race where the top nine finishers all bested the previous championship record. His time of 8:05.50 was shy of the top three by .21 seconds.
Fellow distance runner Justin Krause (Ixonia, Wis./Pewaukee) posted a personal record in the mile run. He crossed the line in 4:07.76 to secure All-America honors for the second consecutive track season — he finished fourth in the 1,500-meter run outdoors a year ago.
Two Warhawks represented UW-Whitewater in the men's triple jump Saturday. Shelvin Garrett became a two-time indoor All-American with a leap of 14.85 meters (48-8.75) for fifth place. Garrett claimed bronze last season. Teammate Brayden Zettle (Monroe, Wis./Monroe) registered a distance of 14.41 meters (47-3.5) to finish 13th. 
_______________________________________________________________________________________________________________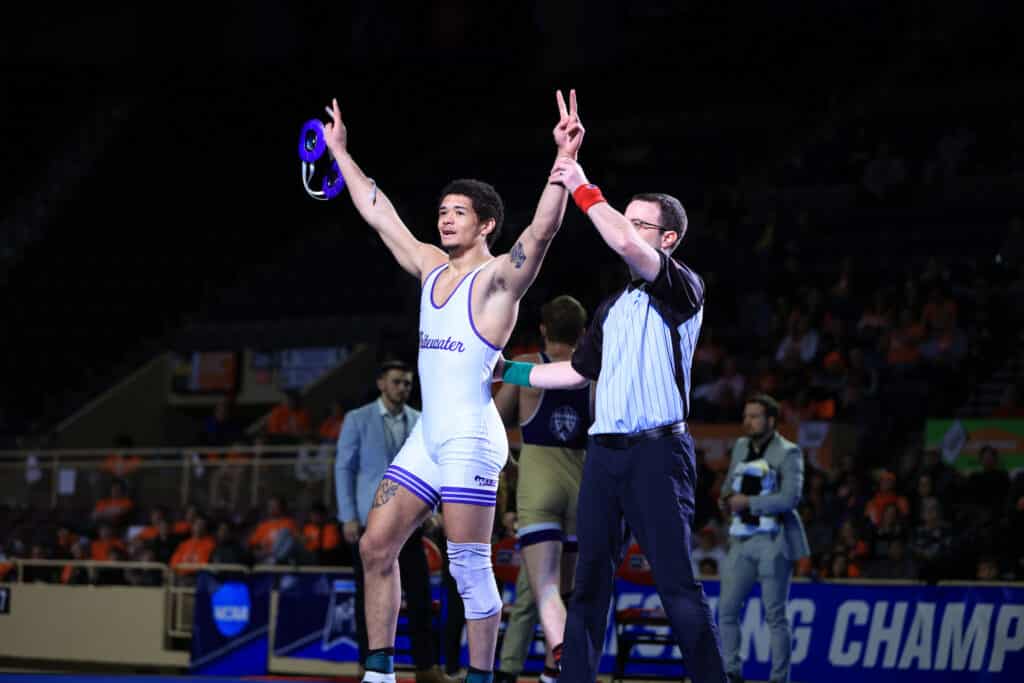 By Angela Kelm
Asst. Sports Director for Sports Information
Roanoke, Va. — Jaritt Shinhoster Claims Second Consecutive National Title at 184 Pounds
University of Wisconsin-Whitewater senior Jaritt Shinhoster (Hoffman Estates, Ill./Barrington) successfully defended his national title to claim the crown at 184 pounds once again at the 2023 NCAA Division III Wrestling Championships in Roanoke, Virginia.
In a rematch of the 2022 national championship bout, Shinhoster defeated Shane Liegel of Loras College by 9-2 decision Saturday evening to secure the title for the second consecutive season. The title bout was the rubber match between the two brawlers, as the pair had each registered a win against the other this season. Shinhoster was a perfect 4-0 at the national championships this season. After opening with a fall, he posted back-to-back major decisions to advance to the title bout.
Shinhoster is the third back-to-back champion in program history joining Rob Llorca from 1990 and 1991 at 158 pounds and fellow 184-pounder Jordan Newman who secured titles in 2017 and 2018. Overall, he is the fifth wrestler to win a national title as a Warhawk.
The fifth-year senior has recorded a phenomenal career as Warhawk. His 33 wins this season is the most in his five years (including a shortened season due to the pandemic) as he wrapped up the season at 33-2. For his storied career, Shinhoster is 112-15 with 57 pins, 9 technical falls and 28 major decisions. With a streak of five consecutive pins through regionals and into the first round of the national tournament this season, it is no surprise that Shinhoster has a fall-rate nearing 50-percent for his career.
SATURDAY MORNING SESSION RECAP
University of Wisconsin-Whitewater brawler Jaritt Shinhoster (Hoffman Estates, Ill./Barrington) has advanced to the title bout at the NCAA Division III Wrestling Championships. The senior will defend his 2022 national title against Loras' Shane Liegel in the Saturday evening session slated to begin with the parade of All-Americans at 6:30 pm ET.
The 184 title bout will be a rematch of the 2022 national championship. Shinhoster defeated then top-ranked Liegel by major decision 13-5. This season, the brawlers have met twice. Liegel won in sudden victory in the title bout of the Concordia Wisconsin Open back in November. That loss marked Shinhoster's first of the season – his lone other came to a Division I opponent in the annual Midlands Championships where he finished as the runner-up against all Division I competition. Shinhoster took the second meeting this season by decision, 4-0, in a dual against Loras in January.
Shinhoster defeated Donovan Corn of Luther College by 12-0 major decision in Saturday morning's semifinal.
Shinhoster is 32-2 on the season with half of his victories coming by fall. He three technical falls and seven major decision for a total of 26 bonus point wins of his 32 victories.
Attached photo: Shinhoster claims second straight 184 pound national title at 2023 NCAA DIII Wrestling Championships courtesy of Kodiak Creative