(Reutebuch family submission) James John Bruynell, age 84, of Oceanside CA, went to be with our Lord and Savior on March 21, 2021. Jim was born to Erma and John Bruynell on September 18, 1936. He grew up in Mishawaka, Indiana, attended Mishawaka High School and graduated in 1955. Jim was a proud and active member of every community he lived in. He served in the United States Army for 3 years and the majority of that time was spent at The Redstone Arsenal. He worked as an Engineer and a Sales Engineer for Dodge Manufacturing and Reliance Electric of Rosemont, Illinois for 44 years.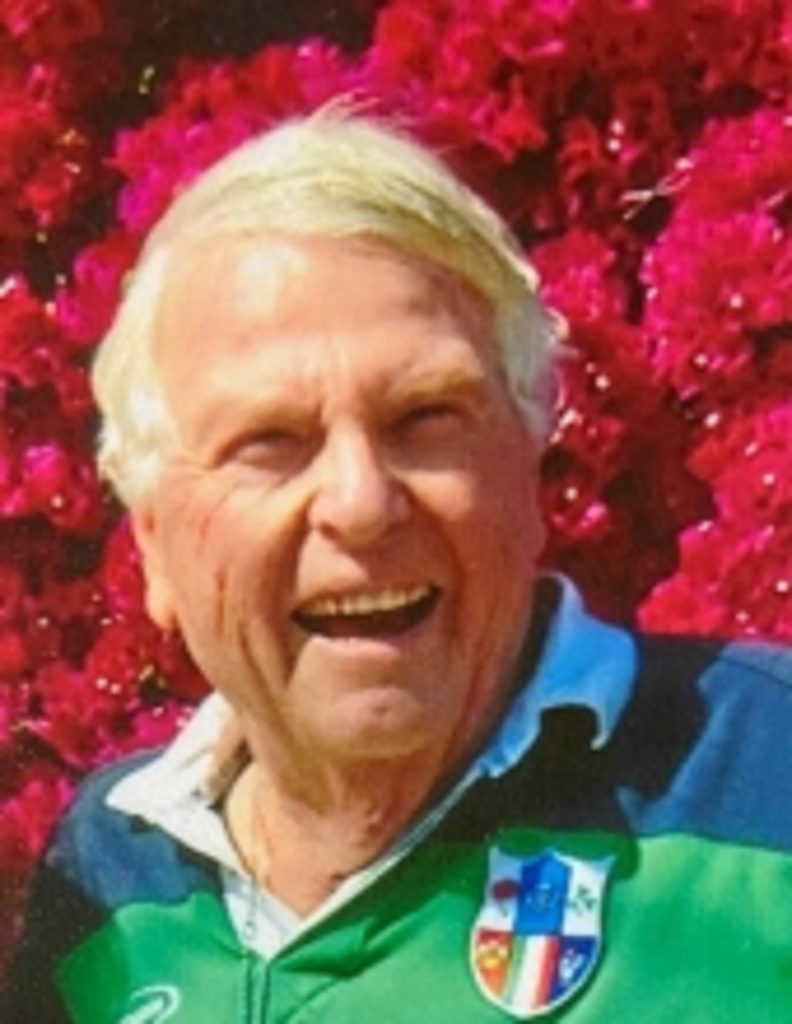 He was part of the Cursillo Movement for over 60 years in Indiana and Illinois. Jim served in the Kairos Prison Ministry for many years, where he shared the love and forgiveness of Jesus. Moreover, Jim served weekly at Brother Benno's, serving the poor and marginalized. If you couldn't find Jim on a Saturday morning, he was out feeding the migrant workers a hot breakfast. Also, he had a special love for the Capuchin Franciscans who welcomed his family to Northwest Indiana and befriended them.
Jim was an avid, gifted joke teller and loved to share a smile with everyone. He enjoyed fishing and was especially fond of the family summer trips at Big Fish Lake. He cherished many memorable fishing trips with his sons and grandchildren. He could fix just about anything and got plenty of opportunities to so with his large family. He loved playing the drums and delighted in family musical sessions in Wisconsin. Jim was a dancing enthusiast and had so much fun on the dance floor. He never missed the opportunity to celebrate his family and was most proud of his nine cherished children, 21 grandchildren, and precious one great grandchild. His family was a priority in all he did.
Jim enjoyed ocean walks and oceanside meals with his beloved wife and best friend, Carol. They enjoyed traveling and visited most of Europe together. He adored waking up to the California sunshine daily, and he grew beautiful lemons. He delighted in mailing his family boxes of his prized California fruit. Jim was proud of his Belgian roots and the little Flemish community that he came from. He made sure his family knew their special Belgian blood and stories.
He made the best batches of Chex mix to share. He loved people, conversations, and sharing a meal. Jim was loved by so many. Jim was Santa for many decades and shared joy with many by helping to bring the magic of Christmas to his community.

His favorite hobby was his postcard ministry. He sent hundreds of postcards to loved ones and shared his faith, life lessons, and unique, funny sayings. Jim had a passion for connecting with people.
Above all, Jim was a follower of Christ. His retirement business card was Isaiah 41:18 "For I, the Lord thy God will hold your right hand saying, Fear not, I will help you." This was the card he shared with as many as he could. In Jim's final hours, all that could be heard, were the sweet words of gratitude to our dear father, grandfather, and husband for a life well lived.
Joy is one word to describe Jim's life and legacy. As Trisha, his granddaughter, so beautifully recalled, "Grandpa, when I think of you, I think of joy. Joy that is generous and energetic, unwavering, and unconditional. Joy that is readily given and therefore plentiful – because it's the kind of joy, it seems, that is replenished by the very act of sharing it with others. How lucky am I to have a Grandpa like that. To know joy like that. To have been loved like that." Jim simply loved people and enjoyed meeting everyone. He wanted to know their story. As Jim's son, Paul, so lovingly shared, "It's been just hours since he left this earth, but I guarantee he has shaken hands with three quarters of heaven."
Jim is survived by his loved wife of 30 years, Carol Bruynell; nine children: Jim (Marie) Bruynell of Haverhill, MA; Mary Sue (Tim) Reutebuch of Whitewater, WI; Tim (Heather) Bruynell of Anderson, SC; Beth (Mike) Ringel of Austin, TX; Amy Sky of Huntsville, Al; Tom (Kim) Bruynell of Pleasanton, CA; Carly (Ken) Kolanda of Maricopa, AZ; John (Madison) Brand of Monticello, IN; Paul (Mary Kate) Brand of East Hampton, CT; 21 grandchildren: Kara Bruynell of San Diego, CA; Laura (Dan) Brosnan of Beverly, MA; Trisha Bruynell of London, England; Ellen (Nick) Pantuosco of Clinton, MA; Alexis (Trevor) Parmentier of Round Rock, TX; Thomas (Jordan) Bruynell of Indianapolis, IN; Ryan Bruynell of Mountain View, CA; Christine Bruynell of Cary, NC; Angela Paolella of Pleasanton, CA; Zachary Ringel of Austin, TX; Cody Torres of Maricopa, AZ; Jeremy Reutebuch of Whitewater, WI; Michael Bruynell of Pleasanton, CA; Collin Torres of Maricopa, AZ; Luke Varghese of Anderson, SC; Ethan Varghese of Anderson, SC; Conor Torres of Maricopa, AZ; Whimsy Brand of East Hampton, CT; Grady Brand of East Hampton, CT; Remy Brand of East Hampton, CT; and Matthew Riordan of Haverhill, MA; one great grandchild: Oliver Brosnan of Beverly, MA and last, but not least: Baby Pantuosco to arrive in August 2021.
Jim was preceded in death by his sister, Geraldine Gyrarmati; his mother, Erma and father John.
Visitation will be held on Friday, April 23 at 10:00 am. A Catholic Funeral Mass will follow at 11:00 am at the Serra Center at Mission San Luis Rey, 4070 Mission Avenue, Oceanside, CA 92057. A Graveside Service with the presentation of Military Funeral Honors at 12:00 pm at the Old Mission Rey Cemetery.
In lieu of flowers, the family asks that donations be made to Brother Benno's, https://www.brotherbenno.org, in memory of Jim.