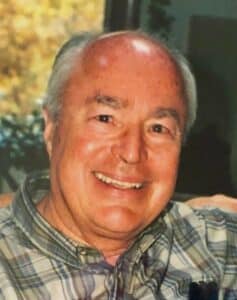 Joseph Jess Campbell, of Whitewater, WI, passed away on November 27, 2023, at the age of 95. Joe was born to J. Jess and Laura E. (Hitch) Campbell on April 11, 1928, in Harvey, Illinois.
Joe graduated from Whitewater High School in 1946. He was drafted into the U.S. Army in 1952 during the Korean War and was stationed at bases in CA, where he had the opportunity to work with Bob Newhart. He would later advance to Sergeant and was honorably discharged on August 8, 1954. It was just prior to this time of service, on June 18, 1952, that Joe and Karin's little brothers, Bill and Ole, introduced them to each other and it was love at first sight. On their 3rd date in late June, they got engaged. While on holiday leave, Joe and Karin were married at the Congregational Church in Williams Bay, WI on December 31, 1952. After his time in the Army, Joe primarily worked in sales, marketing, and management at companies such as Campbell's Clothing Store, Montgomery Ward, Top Value and K-Promotions. After numerous transfers, Joe and his family would eventually settle in Pewaukee Lake, WI in 1966. On his 50th birthday in 1978, he established his own business, Campbell Incentive Company, in partnership with Karin. On Labor Day weekend, 1989, Joe and Karin moved to Stoughton, WI. Joe then retired in 1991. In 2018, Joe and Karin moved to Fairhaven Senior Services in Whitewater, WI.
Family meant everything to Joe. He loved telling stories about genealogy and family history, particularly that of the Hitch family. His work ethic, honesty, and integrity were stellar. He loved the work he did, meeting the needs of his customers and working to solve their problems. He passed on his work ethic to his children and grandchildren. Joe was very active in the Lutheran Church, especially in Stoughton. He also loved to play cards and was an avid reader, enjoying books on history and historical novels. As a boy, he loved being in the water, particularly with his cousins at Lauderdale Lake, WI. Later, he became a swimming champion in Columbus, OH in 1943. He taught numerous children to swim, even swimming across Pewaukee Lake with his sons, and teaching his daughter how to paddle a canoe. He loved to swim in refreshing cold water including swimming in the Baltic Sea in March with his mother-in-law! He loved to canoe, sail, swim, and even go tubing with his grandchildren. Joe loved to watch both his children and grandchildren in a wide variety of activities, such as football games, track & field, sailboat races, band concerts, piano recitals, and swimming at the beach. Often these excursions kept him driving great distances, which they enjoyed together. Joe also enjoyed winter sports, such as cross-country skiing and snowshoeing. These activities kept him in great physical condition, as did his long walks with Karin and various dogs including two wiener dogs named Tina! Joe was a 33rd degree Mason.
Joe is survived by his loving wife of nearly 71 years, Karin E. (Stromgren) Campbell, his children and their spouses, Ingrid (Dan) Cassidy, Jim (Karly) Campbell, John (Nancy) Campbell, and Dave (Kathy) Campbell. He was the proud grandfather to Sarah Gervasini, Danielle Cassidy, Erin Campbell-Wagner, Katie Campbell, Laura Campbell, Peter Campbell, and 5 great-grandchildren. He is also survived by his brother, Bill (Helen) Campbell and sister-in-law, Jan Campbell.
In addition to his parents, Joe was predeceased by his stillborn daughter, Nina, and brother Richard Campbell.
A memorial service and celebration of Joe's life will be held on Friday, December 22, 2023, at 1:30 p.m. at Fairhaven, 435 West Starin Road, Whitewater, WI. In lieu of flowers, contributions may be made to Fairhaven Senior Services or Shriner's Children's Hospital at donate.lovetorescue.org. The Campbell Family would like to extend our heartfelt thanks and gratitude to the staff at Fairhaven for the friendship, kindness and compassion given to Joe and Karin over the past 5 years.
Online condolences may be made at www.nitardyfuneralhome.com