The official start of the 2019-2020 wrestling campaign kicked off on Thursday night and then continued into Saturday as the Whippet Wrestlers were in action.
On Thursday night the team traveled to Big Foot to open the season with a convincing 68-6 victory.
The varsity team then traveled to Watertown on Saturday to compete in the Watertown Tom McGarvie Invitational. This is a very competitive tournament with 17 teams from all three divisions. Winning the team trophy was Mineral Point, a perennial power in Division three, in convincing fashion. Whitewater wrestled well during the course of the day and finished in 7th place. This was a nice finish considering the competition, with every competitor having tough opponents in their weight class.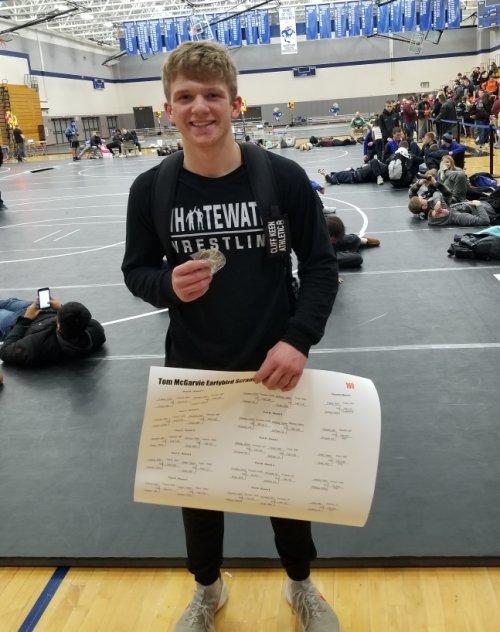 Leading the way for the Whippets was Carter Friend at 160 pounds. He finished the day 5-0 with 4 pins along the way to his championship. Following Friend was Jaden Salmieri who took third place at 132 pounds. Jaden was 4-1 on the day, with four pins and a very close 8-6 loss to the young man who ended up winning the tournament as his weight. Next up in line on the podium and bringing home medals were David Cushman (152), Will Leibbrand (182), and Gehrig Monday (195) who all found themselves in the semi-finals only to drop matches to some very tough opponents putting them in 4th place. Rounding out the medals for the Whippets was Diego Tovar, also wrestling at 160 with a 5th place finish, going 3-2 on the day. Diego wrestled very well in his first varsity tournament.
The coaching staff was very pleased with the efforts of the team, however found areas for improvement as we progress into the next week of practice. The Whippets are next in action on Saturday, December 14 when they host the 7th annual Whitewater Invitational. Wrestling will begin at approximately 9:15 am at Whitewater High School.
Article Submitted by Coach John Schimming