With another week of training under their belt and not feeling like they were racing on the surface of the sun, the Whippet Cross Country Team was able to come away with several positive takeaways from their first Invite of the year in West Allis on Friday, September 3. All runners ran better than they did a week ago, with a significant portion cutting more than five minutes off their time — some as much as thirteen minutes!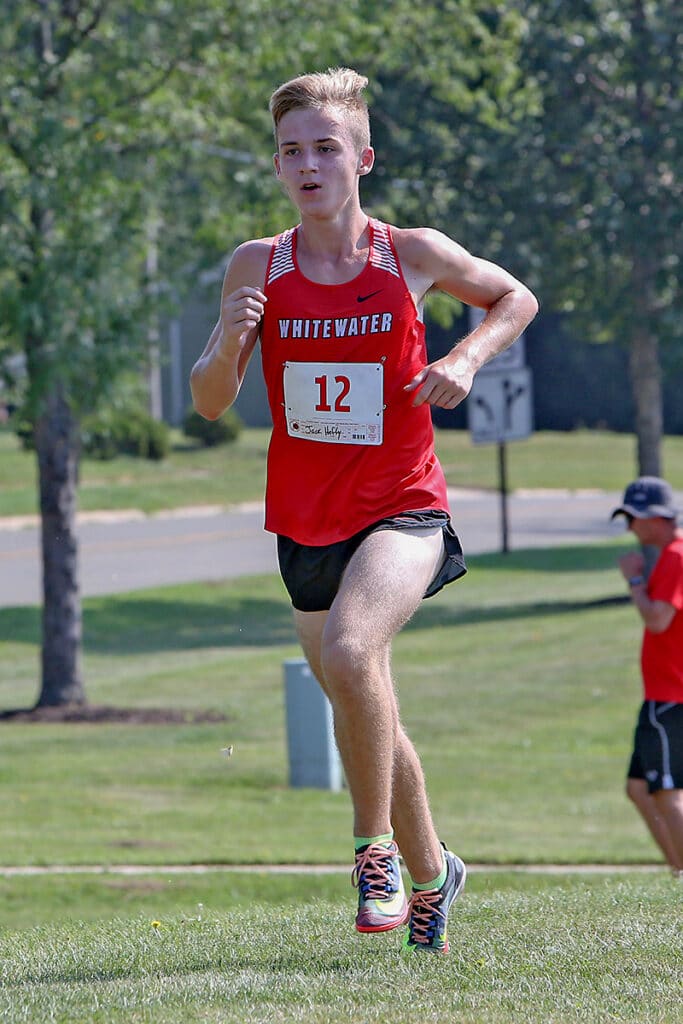 In this meet, Gwen Truesdale led the Lady Whippets in 59th, followed closely behind by Sophie Walton in 63rd. Chasing down her teammates was Caelyn Caputo in 66th; then three more Whippets finished in a row with Emma Weigel in 69th, Nola Coburn in 70th, and Isabella Aranda in 71st. Evie Troxel rounded out the top 7 Varsity runners in 76th. In the JV race, Jenny Villarreal returned to action to place 82nd. Lucy Troxel and Sami Van Daele competed together side by side to place 87th and 88th, respectively. The Girls' Varsity placed 7th out of 8 complete teams, and the JV did not have a complete team to score.
On the boys' side, freshman Jack Hefty made his mark in the high school scene by placing 9th overall in a time of 17:33 and earning a medal. Cooper Hammond was 37th overall, with teammates CJ Tomomitsu and Nate Holden 55th and 56th overall. Miles Nickelsburg placed 89th, and Ben McCulloch finished in 93rd. Andrew Rollette completed the Varsity field by placing 96th for Whitewater. In the JV race, Keith Cameron led the team with a 110th place finish. Josiah Holden finished in 125th, Onyx Thompson in 126th, Sterling Truesdale in 148th, Casey Schilling placed 159th, Xavier Zei 173rd, and Alex Clarksen finished in 179th. The Boys' Varsity placed 9th out of 14 teams, and the JV team placed 14th.
Full results: https://wi.milesplit.com/meets/440056-wac-bulldog-invite-2021/info#.YTLU4p1KhPZ
Up next will be a week off from racing to focus on a great week of training followed by the Marshall Invite on Tuesday, September 14th. The first race goes off from McCarthy Park at 4:30 for Boys' JV and Varsity and 5:15 for Girls' JV and Varsity.
Article Submitted by Chad Carstens
Whitewater High School Head Cross Country Coach
ccarstens@wwusd.org
Jack Hefty Photo Credit: Bob Mischka
Photo Gallery Photo Credit: Tammy Tomomitsu