By Chris Lindeke
Assistant Athletic Director, Strategic Communications and Branding
University of Wisconsin-Whitewater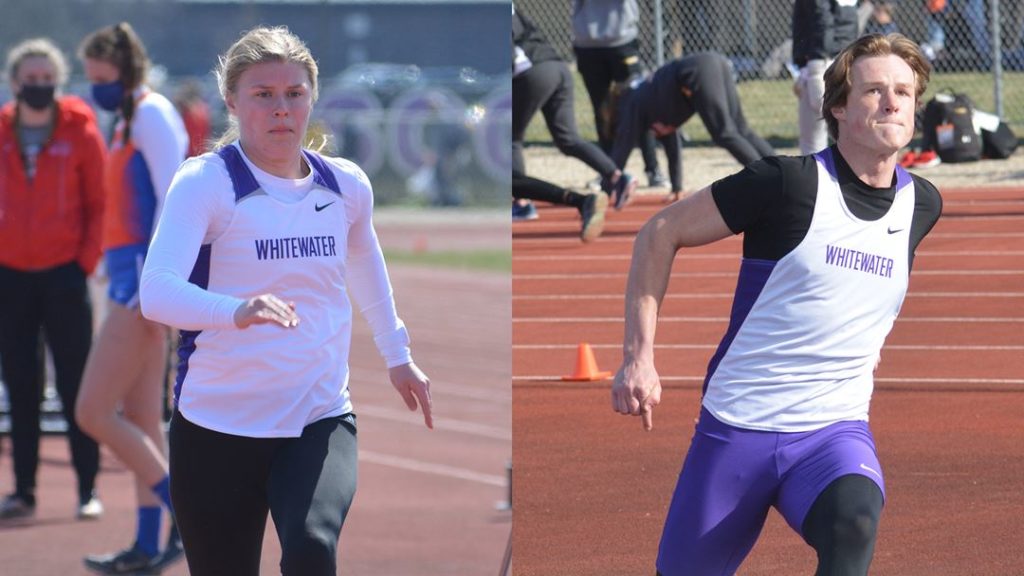 Saturday, May 8, 2021
The University of Wisconsin-Whitewater men's and women's track and field teams completed competition Saturday at the two-day Wisconsin Intercollegiate Athletic Conference Outdoor Championships presented by Culver's in River Falls, Wis.
The Warhawk men placed second at the meet for the fifth time in the last six years, totaling 130 points. The women finished eighth with 26 points.
For the women, Abigail Missiaen placed fourth in the heptathlon with 4,368 points. She started the weekend Friday by finishing as runner-up in the javelin throw.
Maddie Keifer posted a mark of 37-01.25 (11.31 meters) in the triple jump to earn a spot on the podium with a sixth-place finish.
The 4×400-meter relay team of Katie McNamara, Abby Giese, Paige Fassbender and Sarah Niehueser finished seventh in 4:08.44.
On the men's side, David Fassbender picked up his second conference title of the weekend, winning the 5,000-meter run in 14:48.41 just one day after finishing first in the 10,000-meter run. Josh Krystosek placed first in the high jump for his first career conference championship with a height of 6-08.00 (2.03 meters).
Fassbender was joined by two others on the podium in the 5K, including Christian Patzka, who ran a career-best 14:55.22 for an All-WIAC finish of second place. Gunner Schlender placed fourth with a time of 15:03.32.
Lucas Skaaland led a group of three Warhawks on the podium in the triple jump, finishing second with a personal record distance of 48-06.75 (14.80 meters), good for fourth in NCAA Division III. Shelvin Garrett placed sixth with his mark of 46-04.75 (14.14 meters), and Curtis Pfeil scored in his second event of the weekend with an eighth-place finish at 46-04.00 (14.12 meters).
Justin Krause also garnered all-conference accolades with his runner-up finish in the 1,500-meter run. He crossed the finish line in 3:55.15.
The 4×100-meter relay team of Thomas Kelly, Dwayne Ford, Victor Rinaldi and Garrett placed second in 41.27 seconds. Ford also collected an all-conference honor in the 100-meter dash with his time of 10.75, good for third place. He later placed sixth in the 200-meter dash in 22.10 seconds.
Brian Kuehl and Landon Keefover finished fourth in their respective individual events. Kuehl posted a time of 1:55.36, while Keefover registered a 15.16 in the 110-meter hurdles.
Other individual scorers included Quinn Halversen, who finished fifth in the high jump with his height of 6-04.00 (1.93 meters), and Luke Zanis, who placed eighth in the 400-meter dash in 50.15 seconds. Zanis was also part of the 4×400-meter relay team that included Will Kaashagen, Oren Henderson-Zintz and Zach Miller. The group finished fifth in 3:20.08.
Following the completion of the meet, Ty Jahnke of the men's team and Hope Mylin of the women's team were announced as UW-Whitewater's representatives on the WIAC Larry Zirgibel All-Sportsmanship Team.
The Warhawks host the John Kruchoski Open next Saturday, May 15, at Rex Foster Track.
See below for UW-Whitewater's top finishers and top-eight placers in each event.
Women
400-Meter Dash: Katie McNamara – 1;01.15, 13th
800-Meter Run: Paige Fassbender – 2:22.36, 12th
1,500-Meter Run: Ari De La Cerda – 4:59.16, 14th
10,000-Meter Run: Jill Cavanaugh – 41:20.89, 14th
100-Meter Hurdles: Hope Mylin – 16.87, 21st
3,000-Meter Steeplechase: Ari De La Cerda – 11:50.76, 9th
4×400-Meter Relay: McNamara/Giese/Fassbender/Niehueser – 4:08.44, 7th
Pole Vault: Gracie Holland – 12-02.75 (3.73 meters), 2nd
Long Jump: Shelby Nickels – 17-06.00 (5.33 meters), 9th
Triple Jump: Maddie Keifer – 37-01.25 (11.31 meters), 6th
Shot Put: Morgan Huntley – 38-01.50 (11.62 meters), 18th
Javelin Throw: Abigail Missiaen – 126-00 (38.42 meters), 2nd
Heptathlon: Abigail Missiaen – 4,368, 4th
Men
100-Meter Dash: Dwayne Ford – 10.75, 3rd
200-Meter Dash: Dwayne Ford – 22.10, 6th (21.87 in prelims)
400-Meter Dash: Luke Zanis – 50.15, 8th (49.68 in prelims)
800-Meter Run: Brian Kuehl – 1:55.36, 4th
1,500-Meter Run: Justin Krause – 3:55.15, 2nd
5,000-Meter Run: David Fassbender – 14:48.41, 1st; Christian Patzka – 14:55.22, 2nd; Gunner Schlender – 15:03.32, 4th
10,000-Meter Run: David Fassbender – 30:02.44, 1st; Kyle Neuroth – 31:09.74, 5th
110-Meter Hurdles: Landon Keefover – 15.16, 4th (15.14 in prelims)
400-Meter Hurdles: Brody Lippens – 59.30, 13th
3,000-Meter Steeplechase: Christian Patzka – 9:17.92, 2nd; Nate Fox – 9:29.05, 7th
4×100-Meter Relay: Kelly/Ford/Rinaldi/Garrett – 41.27, 2nd
4×400-Meter Relay: Kaashagen/Henderson-Zintz/Miller/Zanis – 3:20.08, 5th
High Jump: Josh Krystosek – 6-08.00 (2.03 meters), 1st; Quinn Halversen – 6-04.00 (1.93 meters), 5th
Pole Vault: Adam Schommer – 15-09.00 (4.80 meters), 2nd
Long Jump: Griffin Gawenda – 22-10.50 (6.97 meters), 3rd
Triple Jump: Lucas Skaaland – 48-06.75 (14.80 meters), 2nd; Shelvin Garrett – 46-04.75 (14.14 meters), 6th; Curtis Pfeil – 46-04.00 (14.12 meters), 8th
Discus Throw: Tommy Morton – 142-06 (43.43 meters), 14th
Shot Put: Daustin Martin – 47-08.50 (14.54 meters), 9th
Hammer Throw: Daustin Martin – 171-06 (52.28 meters), 10th
Javelin Throw: Curtis Pfeil – 170-09 (52.06 meters), 6th