The Whippet Wrestling Team wrestled very well on a night that saw them honor the senior wrestlers as well as the youth wrestlers in the Whitewater Wrestling Club.
The evening started off with the young Whippet Wrestlers showing their skills as they had the opportunity to practice in the Whitewater High School gym. Coach Gomez, Coach DePorter, and Coach Hernandez ran the young team through many drills that they have been learning throughout the course of the last month of the season. It was a great display of the knowledge, and more importantly, the fun the young Whippets have had.
Before the high school dual the senior wrestlers were presented and honored for their time they have given to the program. The time in the program ranges from Jaden Salmieri who started wrestling in 1st grade to Morgan Stillwagon who came out for the first time this year. Seniors included Cody Gamble, Morgan Stillwagon, Jaden Salmieri, Tyler Pavlik, Mason West, Gehrig Monday, Will Leibbrand, Zach Porter, and Victor Hernandez. Senior Managers included Lexi Hackney, Kathleen Lashley, and Raquel Ortiz. Thank you to these seniors for their time in the Whippet Wrestling Program.
The night concluded with the Varsity team getting a big victory against Edgerton 64-16. Edgerton was short handed a couple wrestlers based on some injuries; however, the Whippets wrestled extremely well in the big victory. All four seniors on the starting lineup closed out their career under the spotlight with a win by pin. Marcus DePorter wrestled a very good match to get the team started with a 13-4 major decision against a very tough opponent.
Once again, thank you seniors for your time. Also thank you to Mike Krahn for taking the lead in creating the banners that were on display for the night and hang in the wrestling room. Also thank you to Shannon Cushman for taking charge of creating the trading cards that the high school team handed out to the youth wrestlers at the end of the meet. The team started this tradition last season, and the youth wrestlers love going down on the mat after the competition and meeting the high school wrestlers to get trading cards.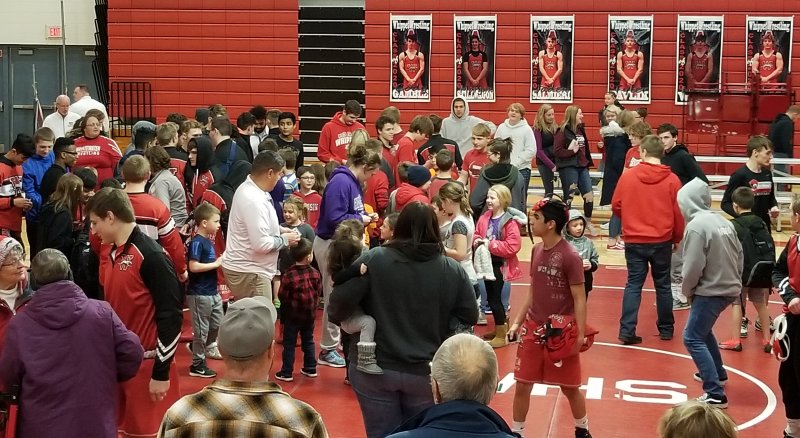 The team closes out the regular season dual meets on Tuesday when they travel to Janesville Craig to participate in a dual meet. The team is currently 8-2 overall and 6-2 in conference competition. On February 8, the team will host the Rock Valley Conference Tournament at Whitewater High School. Wrestling begins at 9:45 a.m. 
Story submitted by Coach John Schimming, Photos courtesy of Coach John Schimming and Bob Mischka