Edgerton, WI – Winifred June (Stacey) Parker, 92, left this world on December 31, 2022. She was born in Summit, WI on June 17, 1930, to Daniel and Myrtle Ann (Pett) Stacey. Winnie was orphaned at age 3 1/2, but she was given a loving home by her Aunt Jessie and Uncle Clifford Pett. She lived with them on a farm outside of Palmyra, WI and then moved to Whitewater in 1944. She attended Palmyra school from grades 1-8, then attended Whitewater High School where she graduated as an honor student in 1948. She then attended college at the Milwaukee Business Institute.
She married Douglas Howard Parker on January 20, 1950 at Summerfield Methodist Church, Milwaukee, WI. When Doug passed on October 5, 2018, they had been married 68 years. They lived in Petrifying Springs, Whitewater, Beloit and Edgerton in WI, Galena, IL, and Sun City, AZ.
Winnie worked at Community Welfare Council of Milwaukee County; Fort Atkinson Memorial Hospital as a switchboard operator, admissions, patient accounts and secretary to the personnel manager; First National Bank of Beloit as an Executive Secretary; and Blakely and Blakely Law Firm as a Legal Secretary. She was a member of BETA CHI RHO International Honorary Business Sorority, member #642; Order of the Rainbow Girls 1945-1950 and volunteered for United Blood as well as Del Webb Memorial Hospital, Sun City West, AZ for 13 years where she received a distinguished award for number of hours volunteered. She was proud to be a Blue Star Mom with son David's military service.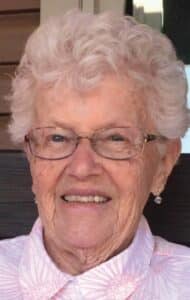 Winnie was inspired to have a large family. She nurtured her seven sons and two daughters, giving them many opportunities to join organizations and attend events that would help them learn and explore their talents and be adventurous. She loved her family and loved being surrounded by them and always wanted to be a part of what was going on in their lives.
She was always up for adventures and trying something new. She enjoyed travel, camping, ceramics, bird watching and caning antique chairs. Winnie was a kind, caring, generous, thoughtful person who loved people, always making them feel welcome and important. She had a positive outlook on life and a great sense of humor that many can attest to sharing side splitting, belly ache and infectious laughs with her. She loved the beauty of all the seasons and what they held. She had a gift for expressing thanks and wrote wonderful notes of appreciation in her beautiful handwriting. She loved watching sporting events and followed the Packers, Badgers, Brewers, and Milwaukee Bucks. She was always up for a fun event or celebration. In everything, Winnie was always a lady!
She is survived by her children Michael Parker, Stephen (Jill) Parker, Bruce Parker, David Parker, Roger (Marie) Parker, James (Dorothy) Parker, Kristine (Michael) Presley, Cynthia (Henry) Dupuis, 15 grandchildren, 5 great-grandchildren and six nieces and nephews.
She was preceded in death by her parents Daniel and Myrtle (Pett) Stacey, sister Hazel, husband Douglas Howard Parker, and son Jeffery William Parker.
An open house celebration of Winnie's life will be held on Saturday, June 17th, 2023 from 12:30-5:30 p.m. at Cravath Lakefront Community Center, 341 S. Fremont St., Whitewater, WI 53190. A sharing of memories will be at 2:00.
Her ashes will be placed by her marker with her husband Doug and son Jeff in Hillside Cemetery, Palmyra, WI.
Nitardy Funeral Homes is assisting the family with arrangements. Online Condolences can be made at www.nitardyfuneralhome.com.
Updated 5/1/23 with change of time for the Celebration of Life.