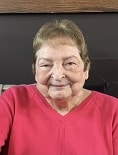 Edna (Peyer) Park, age 87, passed away April 19, 2023 at her home in Sauk City, Wisconsin. She was born the fourth of five children to Carl H. and Aurora D. Peyer in Peoria, Illinois on April 4, 1936. Edna graduated from Galesburg High School in 1954. She completed her Bachelor's degree in 1957 at Illinois State University and her Master's degree there in 1962.
Her career in education began in Illinois at Lisle Community High School where she taught mathematics and psychology from 1957 to 1960; she served as a counselor and school psychologist at Deerfield High School from 1962 to 1968 and completed her career teaching remedial mathematics for fifteen years (1981 to 1996) at the University of Wisconsin – Whitewater. Edna's greatest joy was to see students achieve success and gain self-confidence.
On December 18, 1965 Edna married Joe Charles (Chuck) Park and they made Whitewater Lake their home for 48 years. They traveled extensively throughout their 58-year marriage both before and during their retirement. When she wasn't globe-trotting, she was active in The League of Women Voters and Habitat for Humanity. She served as co-chair of the International Student Host Family program at the University of Wisconsin – Whitewater for a number of years and was active in the Foreign Foods club at the university which later became the Gourmet Club. She loved music, she loved to play bridge, she liked the creativity of sewing and quilting and was considered to be a gourmet cook. After moving to Sauk City in 2013, Edna became a member of the Free Congregation of Sauk County.
Chuck and Edna were blessed with two wonderful children: Laura Park of Los Angeles, California and David Park of New Orleans, Louisiana. Their personalities, talents and interests enriched the lives of their parents.
Along with her loving husband and children, Edna is survived by cousins and nieces and great nieces and great nephews as well as her many friends. A private memorial service will be held in accordance with her wishes.