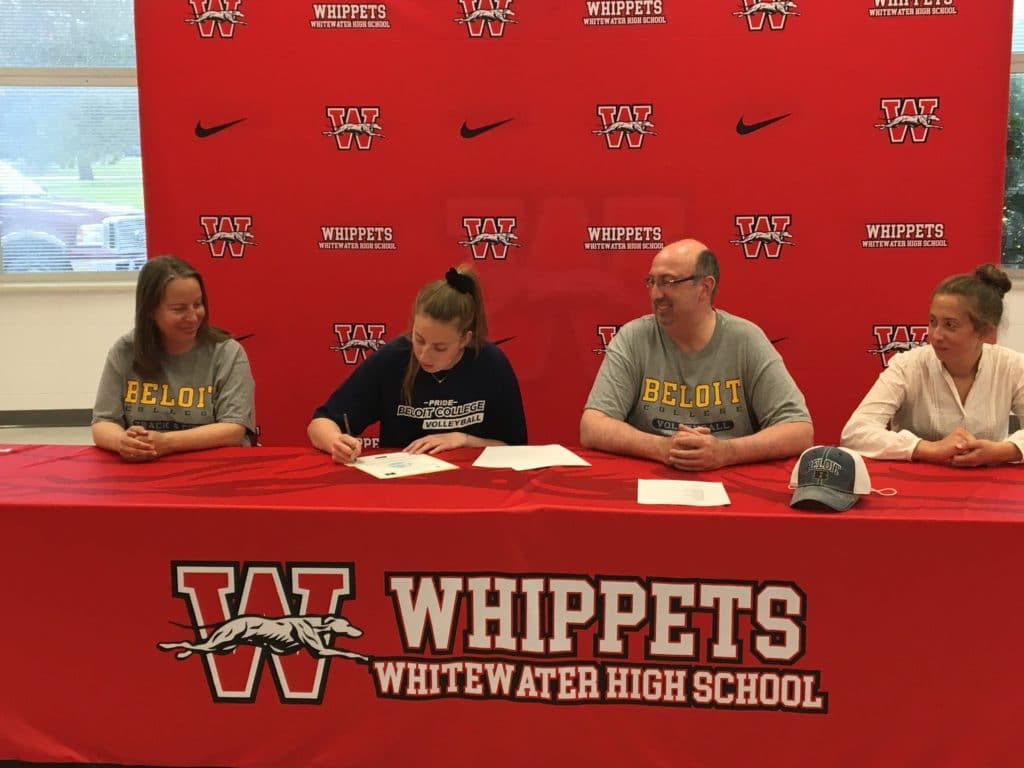 By Lynn Binnie
Whitewater Banner volunteer staff
whitewaterbanner@gmail.com
With about two dozen of her family, friends, teammates, and Whitewater High School staff looking on, Cora Takoda Linos on Thursday, May 27 signed her letter of intent to play collegiate volleyball at Beloit College. Linos is a varsity letter winner in volleyball, soccer, and basketball and a '21 valedictorian.
In the 2020-21 volleyball season Linos was varsity captain and was selected Most Valuable Player on the team that was Conference and Regional Champion. She was also named to Rock Valley Conference First Team All-Conference as well as Honorable Mention All-State by the Wisconsin Volleyball Coaches Assocation. Her career ranks #1 for all-time assists (2038 assists), #1 all-time aces (184 aces), #4 all-time digs (841 digs), and #7 all-time blocks (111 blocks). In 2021 she was feated with the Joan Domitrz Above and Beyond Award and the WIAA Female Scholar Athlete.
Academic recognitions include Rock Valley Conference Top-10, Rock Valley Conference Academic Excellence Award, AP Honors Scholar, National School Choral Award, and she is a member of the National Honor Society. Beloit College has awarded her a Presidential Scholarship.
Both of Cora's parents, James and Jean Linos, are graduates of Beloit College. Jim was her coach in various times in middle school, high school, and club volleyball. Cora already played club volleyball on campus at Beloit last season. She described Beloit's DIII volleyball team as being in a rebuilding phase. She told the audience that she's looking forward to making Beloit College her home for the next four years.