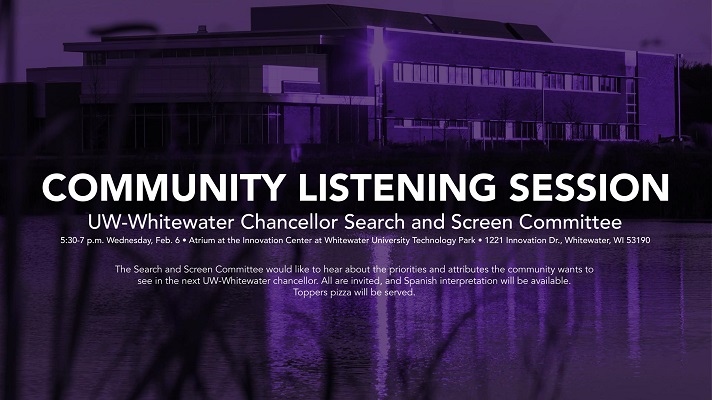 When: Wednesday, Feb 6 from 5:30 pm – 7:00 pm
Where: In the Atrium at the Innovation Center (1221 Innovation Dr, Whitewater, WI 53190).
Why: The Search and Screen Committee wants to hear from the Whitewater Community so that we can learn the priorities and attributes the community would like to see in the next UW-Whitewater Chancellor. ALL are invited. Spanish translation will be available! Toppers will be served (free to everyone!)
We'll be gathering in small groups to provide feedback to the Search and Screen Committee on these questions:
What characteristics, attributes or strengths are you seeking in the new Chancellor?

What characteristics are required and which would be nice to have? Which are most important or essential?

What challenges or opportunities does UW-Whitewater face and what particular characteristics and attributes would help the successful candidate address these issues?

What are the top three-five UW-Whitewater selling points? Why should candidates be excited about coming to UW-Whitewater?
Questions? Please contact Kelly Davis, Community/Alumni Representative to the Chancellor Search & Screen Committee at 262-203-1999 or via email: kellymross@gmail.com
---
Sesión de escucha para el Comité de Búsqueda y Selección del Rector de UW-Whitewater
Cuándo: Miércoles, el 6 de febrero de 5:30-7:00
Dónde: El patio interior del Centro de Innovación (1221 Innovation Drive, Whitewater, WI 53190)

Por qué: El Comité de Búsqueda y Selección quiere saber las ideas de la Comunidad de Whitewater para que pueda aprender de las prioridades y los atributos que la comunidad quisiera ver en el próximo Rector de la Universidad de Wisconsin-Whitewater. Todos están invitados. ¡Habrá un traductor de español! Pizza de Topper's será servida (¡gratis para todos!).

Estaremos reuniéndonos en grupos pequeños para proveer comentarios al Comité de Búsqueda y Selección sobre las siguientes preguntas:
¿Cuáles son las características, los atributos o las fortalezas que busquen en el nuevo Rector?
¿Cuáles son las características que consideran ser requisitos y cuáles son las que vendrían bien que tuviera? ¿Cuáles son las más importantes o esenciales?
¿Cuáles son los desafíos que enfrenta la Universidad y cuáles son las oportunidades que tiene? ¿Cuáles son las características y los atributos que ayudarían al candidato exitoso acercarse a estos desafíos y oportunidades?
¿Cuáles son los tres puntos de venta más salientes de UW-Whitewater? ¿Por qué deben los candidatos estar emocionados de venirse a UW-Whitewater?
¿Preguntas?: Pónganse en contacto con Kelly Davis, Representante de la Comunidad y de Antiguos Alumnos de la Universidad en el Comité de Búsqueda y Selección del Rector de UW-Whitewater: Teléfono: 262-203-1999; Correo electrónico: kellymross@gmail.com