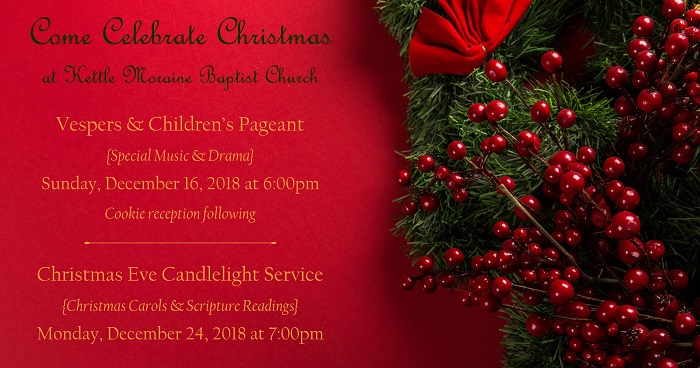 The members and (new!) pastor of Kettle Moraine Baptist Church (KMBC) invite you to come and experience the joy of the Christmas season.
Come enjoy familiar Christmas hymns and a short dramatization of the Christmas story by the KMBC children on Sunday, December 16 at 6:00 pm. Cookie reception following. 
On Christmas Eve at 7:00 pm, you're invited to join KMBC for their Christmas Eve Candlelight Service, when we'll be singing favorite Christmas carols and listening to Scripture readings about the Savior's birth. 
Kettle Moraine Baptist Church
Pastor Steve Kindstedt
505 S Wisconsin St.
Whitewater, WI 53190
262-473-2224 
www.kmbcwi.org
FB: @KettleMoraineBaptistChurch