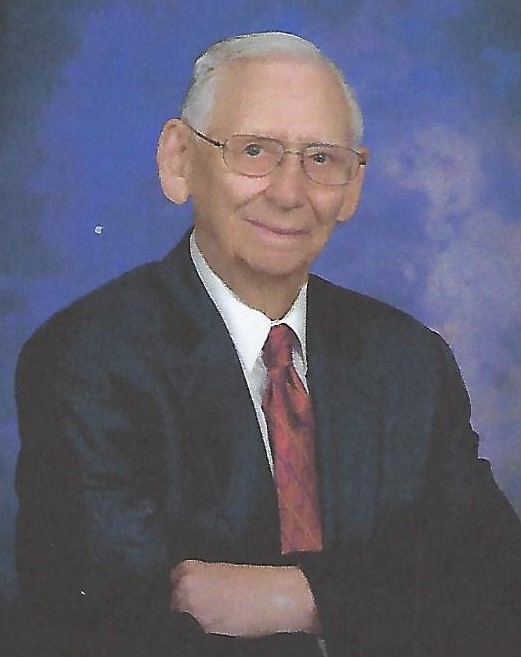 Robert Howard Wright, age 100, died November 12, 2019 at Fairhaven in Whitewater, Wisconsin. He
was born in Chicago, IL October 12, 1919 to Howard B and Mary A (Ramsgard) Wright. He grew up in
Glen Ridge, NJ. He attended Cornell University and was also involved in Army ROTC. In 1942, after
graduation, he was enlisted in the Army as a First Lieutenant. After boot camp, he married Connie Mae
Hollister on August 18 in her parents' home in Painted Post, NY. He was stationed in Fort Sill, OK where
he taught new recruits shooting techniques. He went to Denton TX for a short time before being
shipped to England in 1944. He spent the rest of his service time fighting in WWII in Europe. He was in
Belgium when the war ended.

After the war, he worked for the US Graphite Company while living in Syracuse NY with his wife and 2
daughters. After 4 years, he was transferred to Wisconsin, settling in Pewaukee. He eventually started
his own business as a sales representative. He retired in 1988 and so moving to a cabin on the
Millecoquins River in Naubinway, MI in the upper Peninsula.

In 1989, he met up with Marguerite (Powell) Asher whom he had known for a long time in Pewaukee.
They were married in October, 1989 and he eventually settled Royal Oak, MI where Marguerite and her
daughter, Elizabeth were living. They had a wonderful time together, wintering in Florida until
Marguerite died in 2001. He had become close to his stepdaughter, Elizabeth Asher, and they decided
to live together. They eventually moved to Whitewater, WI in 2002 as that was where Marguerite and
Elizabeth's roots were. Many winters were spent in Naples, FL.

He was an avid golfer and didn't mind sharing his secrets with Elizabeth and daughter, Sandy. He also
was an accomplished watercolor artist starting lessons at age 50. His works are displayed at Elizabeth's
condo and with other family members. Bob was a gentle, kind soul who was revered by all of his
extended family and community members. He was smart and influential with those who would listen
and take his advice. His quick wit kept all laughing.

He was preceded in death by his parents, Howard B and Mary A (Ramsgard) Wright, his first wife
Connie M (Hollister) Wright, and second wife, Marguerite (Powell) Wright, his 2 sisters, Dorothy (Wright)
Hockenberger Galley of Oconomowoc and Michigan, and Barbara J (Wright) Fisher of NJ and N. Carolina.
He is survived by his daughters, Sandra L (Wright) Schaefer of Hot Springs Village, AR, Connie Jean
Wright of Tomah, WI and stepdaughter, Elizabeth M Asher of Whitewater, WI, and his two Grandsons of
Minneapolis, MN: Bradley John and Bruce Robert Berge. Elizabeth was his caregiver for many years as
his health declined. She was his social partner for 18 years and is credited, in part, for his long, enjoyable
life.

There will be no ceremony at this time. His ashes were buried in Hillside Cemetery. There will be a
service in the spring, to include Military Honors.

The Nitardy Funeral Home, Whitewater, WI assisted the family, www.nitardyfuneralhome.com