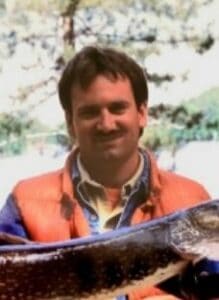 Robert Johnson DeBaufer "a/k/a R.J.", no one else had a laugh quite like it. Unforgettable. Loud and raucous. Just the opposite from the generally quiet, gentle giant of a man. RJ passed away the week of May 16 in his camper near Hollister, WI just as Spring was unfolding a promise of many days of fishing and spending time on his wooded land adjoining the National Forest watching the trillium bloom and observing the woodland wildlife. He was born in Fort Atkinson, Wisconsin to Robert and Sally DeBaufer on June 4, 1961. He somehow survived growing up in Whitewater, Wisconsin with three older sisters: Anne DeBaufer Carlson, Susan DeBaufer Johnson and Betsy DeBaufer Loss. Despite numerous challenges, he graduated from Whitewater High School and the University of Wisconsin-Whitewater where he enjoyed the company of his TKE brothers. After leaving the Navy, he became a computer specialist for Oscar Mayer/Kraft and DynaTechNewStar and most recently worked at Nine Mile campground. He never lost his great interest in politics. R.J. is survived by his beloved daughter Allison and ex-wife, Jane Fitzgerald and her family. He is also survived by his sister, Susan and her family, two special cousins from Georgia and their families, and many nieces and nephews. Not the least important to R.J., he leaves many friends, including his lifelong friend Kurt Seeburger, who will surely miss his genuine kindness as well as his ability to tell some pretty outlandish stories and of course, that laugh. The world has lost one of the good ones.
In accordance with R.J.'s wishes, no services will be held. Memorials in Robert's name can be made to The Sierra Club and White Lake ATV Club.
Strasser-Roller Funeral Home is assisting the family. Friends may visit online at strasserrollerfuneralhome.com.