On Saturday, December 21, the Whippet Wrestlers were up bright and early to travel to Mount Horeb to participate in the Mount Horeb Wrestling Invitational. Sixteen teams participated in this tournament incorporating all three divisions. After a competitive day of wrestling, the Whippets found themselves defending their title, outdistancing Oregon to win the team title.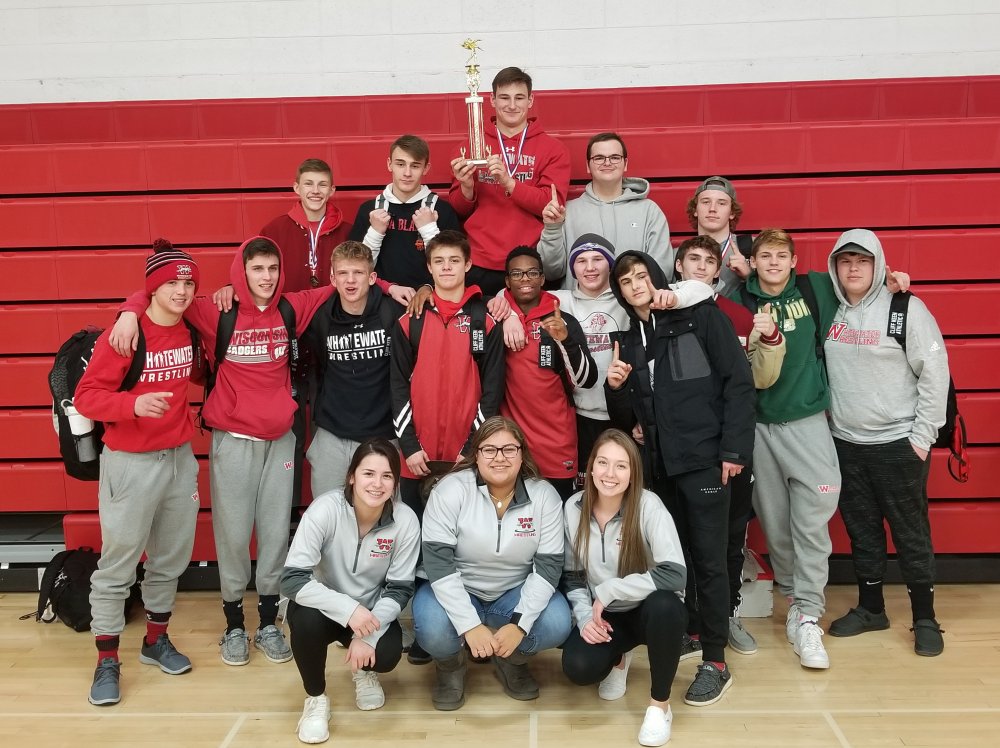 This was truly a team effort by Whitewater as it was a close two team race all day between the Whippets and the Oregon Panthers. Out of the 13 weights the Whippets had 8 of them bring home a top three finish. This was a good tournament for the team to be in as it provided great competition. Oregon, coached by WHS alumni Brian Hookstead, is a much improved team with some very tough competitors.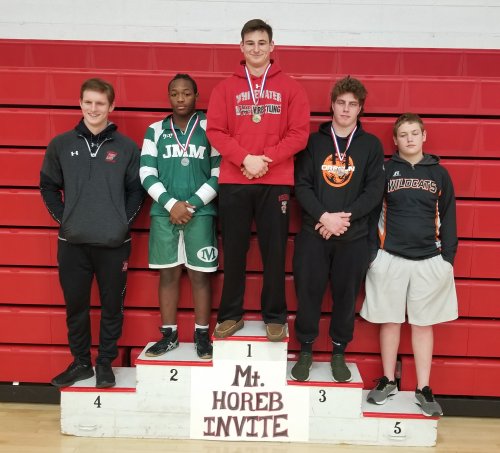 Individually, Gehrig Monday brought home the championship at 195 pounds. Gehrig wrestled a great tournament, going 4-0 with 3 pins along the way. Gehrig commented before his match that last year he was happy to be in the finals and ended up taking second; this year he wouldn't be satisfied unless he won it. This was a great mindset for the senior to have heading into the finals. He wrestled a great match against a strong kid from Madison Memorial on the way to the pin.
Coming in runner up for the Whippets included Jaden Salmieri, David Cushman, and Will Leibbrand. All three of these young men had two pins leading up to their championship matches.
Bringing home the bronze medal for Whitewater were Brian Porcaro, Cooper Hammond, and Marcus DePorter. Dylan DuClos wrestled his best of the year finishing 4-1. Due to losing a quarterfinal match the best Dylan could place was 5th.
The Whippets are next in action on Friday and Saturday when they host the Mid-States Wrestling Tournament held at UW-Whitewater Kachel Gym. Wrestling begins at 10.
——————
On Saturday, December 21, the Whippet JV Wrestlers traveled to Elkhorn High School to participate in a 30 team JV tournament. When the dust settled, the Whippets found themselves in 2nd place, only 8 points behind team champion New Berlin.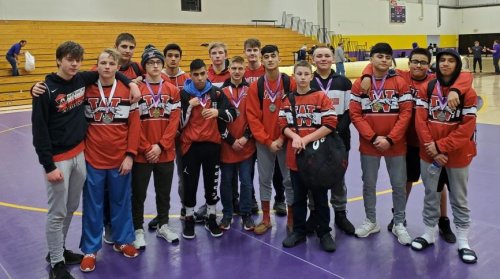 This is a great accomplishment for the Whippets as there are some tough individuals at this tournament as it is the last tournament heading into the winter break, and there are some varsity wrestlers competing.
Bringing home individual championships after going 4-0 on the day were Victor Hernandez, Leo Gonzalez, and Josh Hacht.
Coming in runner-ups going 3-1 on the day were CJ Tomomitsu, Rye Fader, Aaron Porras, Shivam Kalra, Mason Nobs, and Scott Krebs.
Articles submitted by Coach John Schimming