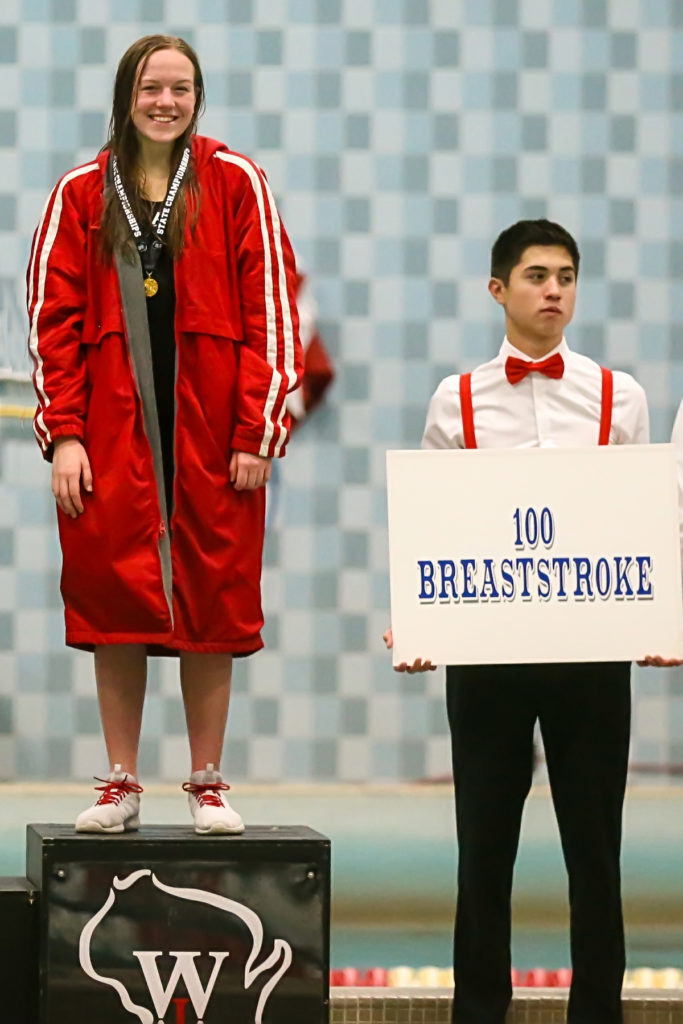 The Whippets came to race! The 200 Medley Relay (Foucault BA 28.69, Houwers BR 29.82, Zimdars FLY 26.67, Krebs FR 26.29) seeded 10th going into the race, won their heat and knocked three other teams out of the top heat! The Whippets ended with a new School Record time of 1:51.47 and earned 6th place medals!
Ella Houwers backed up her lifetime best swim from last week by posting another 2:06 in the 200 Individual Medley earning 2nd place overall (2:06.99)!
Brianna Zimdars beat her own school record in the 100 Butterfly and finished 12th overall with a 1:00.16!
The Whippets continued to swim well in the second half of the meet. Brianna Zimdars finished with a 5th place medal in the 500 Freestyle with a lifetime best time 5:18.20!
The 200 Freestyle Relay (Houwers 24.99, Foucault 24.89, Krebs 26.02, Zimdars 24.88) ended up in 7th place with a new school record 1:40.72. Ella Houwers broke the 50 Freestyle record on the lead off leg of the relay.
Finishing out the night, was Ella Houwers winning the 100 Breaststroke for the second year in a row! Ella posted a lifetime best time 1:05.07 and broke her own school record!
Shout out to freshman Grace Foucault and Amber Krebs for their outstanding relay splits!
It was a great night to be a Whippet!