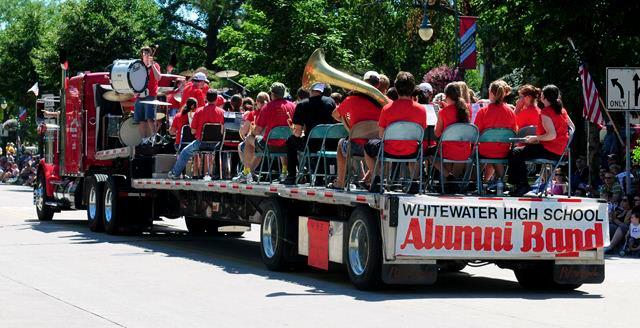 Dear WHS Band Alumni,
For the 23rd year, we will be putting together an alumni band for the July 4 parade. If you're going to be in this part of the country for the holiday, please consider joining us! I know that some of you have been playing professionally while others haven't touched it since graduation – ALL are welcome as long as you're fully vaxxed!   Instrument loans are available as are fingering charts! No marching is involved; we'll be sitting on a flatbed truck!
The parade starts at NOON this year since the 4th lands on a Sunday . We'll plan to meet at Lincoln Elementary School (Prince St. between Highland and Walworth) around that time although we will be near the end of the parade. Do not attempt to drive up Prince Street that morning; best bet for close parking is in the Middle School (old HS) lot off Elizabeth Street.  Drummers talk to me about the best way to get your equipment onto the truck.
PLEASE LET ME KNOW – drddeal@gmail.com – IF YOU'RE COMING so I know how many chairs, stands & copies of music we need.  Also, please pass this on to any other WHS Band Alumni you know from any decade.
Hope to see you there!
Dr Don W Deal [WHS Band Director 1979-2012 and again in 2020]
drddeal@gmail.com