The Whitewater Police Department is excited to partner with the Whitewater McDonald's for their first Cone with a Cop, Thursday, August 22nd from 4 p.m. to 6 p.m.
The WPD would like to invite all residents and visitors to join them for an ice cream cone and some conversation.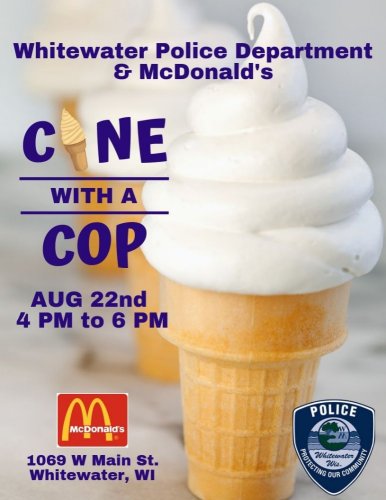 "It is important for our officers to have a strong connection and an open line of communication with the public they serve," said Chief Aaron Raap. "This is just another opportunity to get to know our community. At the end of the day, we are all people who have families, hobbies, likes and dislikes. Why not get together and share them over a delicious ice cream cone?"
Everyone is welcome and encouraged to stop in and visit with the WPD officers and keep the line of communication open. The department will also hold their second Coffee with a Cop this October.
Thank you to McDonald's for hosting this event and supplying cones to the community and WPD staff.
McDonald's
1069 W. Main Street
Whitewater, WI 53190
The City of Whitewater provides efficient and high quality services which support living, learning, playing and working in an exceptional community. Visit www.whitewater-wi.gov for community information and updates.