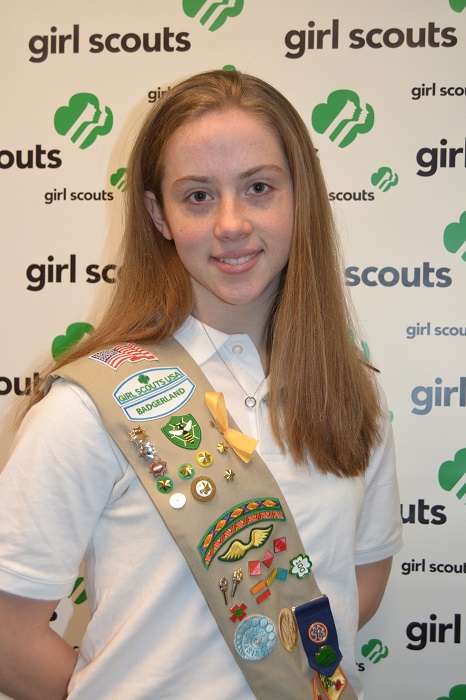 Fifteen girls from across south-central and southwest Wisconsin have been named to the 2018-19 Girl Scouts of Wisconsin – Badgerland Youth Leadership Council (YLC). One of these ambitious young women hails from Whitewater.
Among the girls invited to sit on the YLC is Whitewater Girl Scout Morgan Radaj. Morgan is a senior at Whitewater High School. An active Girl Scout, Morgan earned the prestigious Girl Scout Gold Award, the highest honor a Girl Scout can earn. Additionally, she was a featured speaker before a group of state lawmakers at Girl Scouts Advocacy Day at the Wisconsin State Capitol held earlier this year.
The girls meet bi-monthly with Badgerland Girl Scouts CEO Marci Henderson and other professional staff to discuss topics impacting Girl Scouts today.
"The Youth Leadership Council is imperative to our organization," Henderson said. "Not only do these girls provide perspective and feedback about our programming, but they help us understand what girls are facing every day in school, at home, and in the community."
Henderson adds that by participating in boards and councils such as the YLC, these Scouts are embracing and expanding their understanding of being a G.I.R.L. (Go-Getter, Innovator, Risk-Taker and Leader) – all while directly impacting other, mostly younger, Girl Scouts across the Badgerland jurisdiction. She says their involvement also aligns perfectly with the G.I.R.L. Agenda, an initiative by Girl Scouts of the USA that inspires and prepares girls and those who care about them to take civic action. "The G.I.R.L. Agenda help girls discover how they can use their voices to create change for issues they care about," Henderson said. "At Girl Scouts and as part of the Youth Leadership Council, these high-achieving girls have the opportunity to engage in real-world advocacy."
Additional members of the council are Peyton Barber of Madison, Gabrielle Greenwald of Stoughton, Sydney Harbison of Beloit, Katie Hesselbein of Middleton, Autumn Hilt, Rebecca Hose of Beaver Dam, Lizzie King of Stoughton, Cecilia League of McFarland, Emily Ledin of Middleton, Lauretta Loesch of Sun Prairie, Alexandrea Olson of Beaver Dam and Akshita Pattnaik of Middleton. The 15 members were selected to the YLC through a competitive application process open to all Girl Scouts in grades 9 through 12.
Girl Scouts of Wisconsin – Badgerland Council covers 23 counties in south-central and southwest Wisconsin, as well as Houston County in Minnesota and Allamakee County in Iowa. Its service centers are in Madison, La Crosse, Janesville, and Platteville. For more information about Badgerland Girl Scouts, including membership and volunteer opportunities, see www.gsbadgerland.org.