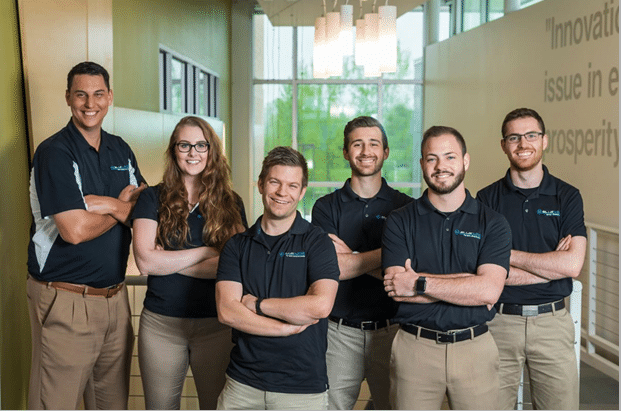 By Al Stanek
Whitewater Banner volunteer staff
whitewaterbanner@gmail.com
A Whitewater entrepreneur has been named to a national magazine's 2021 list of outstanding young business leaders for his efforts at developing and marketing of energy storage systems. Dustin Herte, 29, CEO of Blue Line Battery Inc., has been announced as one of the 2021 "30 under 30" by Forbes Magazine.
Blue Line Battery designs and manufactures industrial lithium-ion batteries for powering industry. The company reports its vision as producing "efficient lithium-ion battery technology accessible to all of the motive power industry, through intuitive engineering and better financing". The company currently has 63 industrial customers operating 263 industrial batteries designed and produced by Blue Line. They report more than $1 million in annual revenue according to Forbes.
The company operates out of the Whitewater University Technology Park Innovation Center and has hired multiple UW-Whitewater graduates and interns over the years.
"We are very excited for Dustin and the whole Blue Line team to have achieved such a significant distinction in entrepreneurship and we are equally excited that the company has chosen the Whitewater University Innovation Center to continue the research and development of Blue Line Products", said Innovation Center Executive Director Mark Johnson.
The Whitewater University Innovation Center's stated mission is to create and foster durable businesses and jobs through a close alignment of UW-Whitewater's research and educational competencies and the resources of the City of Whitewater. It provides workspace, coaching, and programming to assist startup companies. Over 25 companies collaborate to encourage entrepreneurship and increase local business opportunities according to the center's website. The City of Whitewater, the Whitewater Community Development Authority, and the UW-Whitewater partnered and founded the Whitewater University Technology Park and Innovation Center in 2011.
Forbes Magazine annually produces a list of "30 under 30" entrepreneurs in various categories. Herte was included in the "Energy Sector" grouping. The magazine states that "a group of reporters, editors and expert judges consider a variety of factors like: funding, revenue, social impact, inventiveness and potential" when choosing annual "30 under 30" honorees. Forbes says the "30 under 30" goal is to look for the best and boldest young leaders, creators, and thinkers to join what the magazine reports as "Our Dynamic Under 30 Community." 
The magazine is well known for its lists and rankings, including of the richest Americans (the Forbes 400), of the America's Wealthiest Celebrities, of the world's top companies (the Forbes Global 2000), Forbes list of The World's Most Powerful People, and The World's Billionaires.