On Thursday, May 25, the Whitewater Track and Field team competed at the WIAA Division 2 Sectional meet, hosted by McFarland. The Whippets competed hard, and performed well in their individual events, and as a team. Overall, the boys' squad placed 5th with 41 points, while the girls ended up in 3rd with 44.50 points.
Whitewater's boys were led by a trio of State Qualifying finishes that were determined on Thursday, including two firsts and one second. Kicking off the evening, Connor Raupp's third Discus throw in the preliminary round put him above the other 15 competitors. His throw of 169'-0" was first by over ten feet, was a new personal best, and improved his #3 All-Time mark. Raupp, a senior, is a first-time State Qualifier. Sophomore Jack Hefty charged ahead of the competition to place first in the 1600m run in a time of 4:23.92. Jack is now a two-time State Qualifier, but this will be his first time competing in the 1600 in La Crosse. Finally, Ethan Dugan defended his 2022 State qualifying status in the 400m Dash. His time of 50.38 was good for second place, a personal best, and an improvement to #5 All-Time in WHS history. In La Crosse, Ethan will compete in the 400m prelim on Friday to qualify for the final on Saturday. Jack and Connor will both compete on Saturday. On Friday morning, it was determined that Whitewater will have a fourth individual competing in La Crosse. Jaylyn Ewing, whose High Jump of 6'-0" placed him 7th at the Sectional competition, was announced as an Extra Qualifier after the results of each of the Sectionals were tabulated! Ewing, a junior, will compete at his first State Meet on Friday in the High Jump.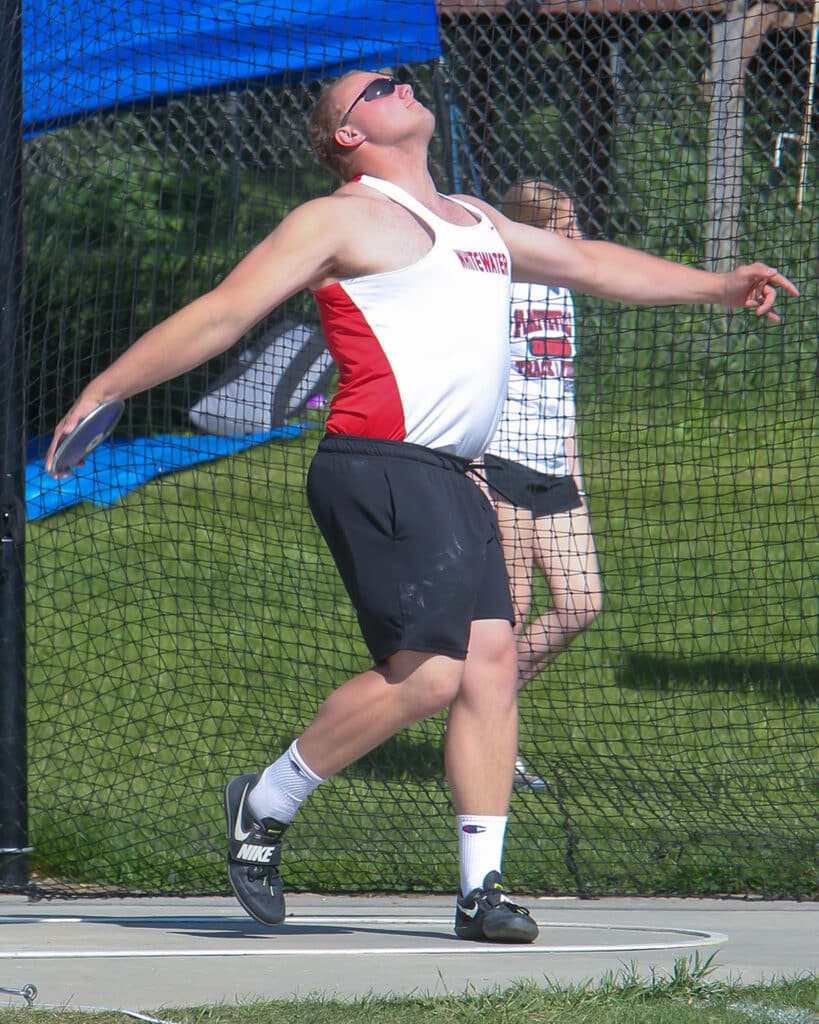 To add to the team score, several other Whippets had strong days at the Sectional. Traysen Thomason placed 6th in the 100m Dash with a time of 11.38, concluding a phenomenal sophomore season for him. CJ Tomomitsu placed 6th in the Pole Vault, tying his personal best of 12'-6" in his final competition in a Whippet uniform. Connor Raupp also placed 6th in the Shot Put with a personal best throw of 48'-10". Jake Kuhlow placed 8th in the Discus with a toss of 139'. The 4x400m relay team of Thomason, Hefty, Curtis Rossmiller, and Dugan also placed 8th in a time of 3:31.30. Additional competitors on Thursday included Nate Holden in the 1600, who placed 10th in a personal best time of 4:48.96, and the 4x200m relay team of Rossmiller, Nate Black, Quincy Boudreau, and Thomason, who placed 15th. Congratulations to all who competed at the Sectional meet on Thursday for a great competition and a fantastic season.
The Whippet girls' team was again led by strong performances in the sprints and relays. To start off the night, Maddie Buehler and Kindyl Kilar both qualified for the final in the 100m and 200m Dashes, respectively. In the preliminary rounds, the girls scorched the track to #2 All-Time times in their events. Maddie's time of 12.37 was .02 off the school record of 12.35, and Kindyl's time of 25.67 was .03 off the school record of 25.64. In the final, Maddie placed second with a time of 12.42, and will compete in the 100m Dash in La Crosse for the second year in a row. In the 200m final, Kindyl also placed second with a time of 26.01. This is also her second year in a row competing at State in the 200m Dash.
The girls also had State Qualifiers in the 4x200m and 4x100m relays. Both teams placed first. The 4x200m team of Buehler, Sydney Schilt, Emma Weigel, and Kindyl Kilar ran a season's best time of 1:44.23, improving upon their #2 All-Time mark from the Regional meet. Additionally, the 4x100m relay team of Calli Grosinske, Buehler, Weigel, and Kilar also placed first, crossing the finish line in 49.71, just off their school record time of 49.17 set at the Regional meet on Monday.
In the field events, Evie Troxel pole vaulted a height of 10'-0". During the competition, she placed fifth, just off the Top-4 spot needed for qualification. However, based on performances from the other Sectional meets, Evie's height placed her within the Top-8 of all the State-qualifying marks. This means that Evie has been named an Extra Qualifier, and will have the chance to compete at the State Meet next weekend! This is Evie's second year in a row competing at the State Meet in Pole Vault.
Additional competitors on Thursday included Izzy Dieter in the Discus, whose throw of 108' was enough for 6th place. Izzy finishes her career with the #4 All-Time Discus throw in WHS history. Finally, sophomore Athena Soto capped off a fantastic season with a 7th place finish in the 800m Run. Athena's time of 2:25.48 is the #10 mark All-Time. The girls 4x400m relay team of Grosinske, Soto, Schilt, and Nola Coburn also competed, placing 11th. Coburn also ran a season's best in the 3200m Run to place 13th in the event. Congratulations to all WHS Sectional competitors for an incredible season!
Whitewater HS State Qualifiers & State Meet Competition Days/Times (if available)
Friday June 2nd, Morning Session
Evie Troxel, Pole Vault (9:45am)
Jaylyn Ewing, High Jump (9:30am)
Maddie Buehler, 100m Dash (Prelim)
4x200m Relay (Buehler, Schilt, Weigel, Kilar, Grosinske, Soto) (Prelim)
Ethan Dugan, 400m Dash (Prelim)
4x100m Relay (Grosinske, Buehler, Weigel, Kilar, Ross, Schilt) (Prelim)
Kindyl Kilar, 200m Dash (Prelim)
Saturday June 3rd, 9:30 Start time
Maddie Buehler, 100m Dash (Final)
Jack Hefty, 1600m Run
4x200m Relay (Buehler, Schilt, Weigel, Kilar, Grosinske, Soto) (Final)
Ethan Dugan, 400m Dash (Final)
4x100m Relay (Grosinske, Buehler, Weigel, Kilar, Ross, Schilt) (Final)
Kindyl Kilar, 200m Dash (Final)
Connor Raupp, Discus (~11:00am)
Article Submitted by Matt Green
Whitewater High School Head Track and Field Coach
mgreen2@wwusd.org
Photos Courtesy of Bob Mischka