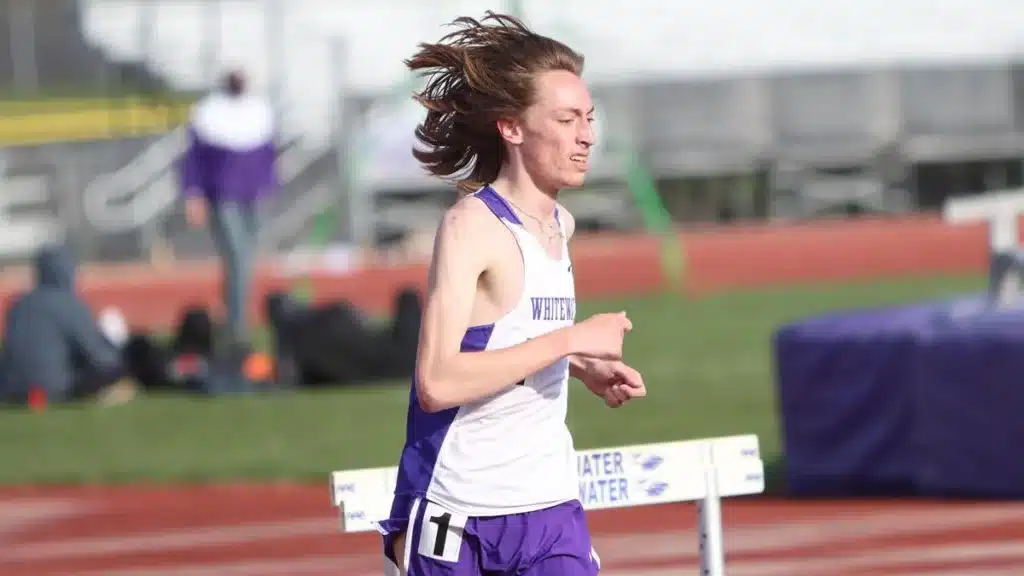 Per an article on WKOW, "UW-Whitewater sophomore and Wisconsin Heights alum, Christian Patzka, won the Division III National Championship in the 3,000 meter steeplechase in Rochester, NY on Saturday.
Patzka won the event with a time of 8:42.46, breaking the NCAA DIII record, as well as records for the DIII championship, the facility, and the Warhawks' program. The win also earns Patzka All-American honors for the third time in his career.
While it's Patzka's first ever national championship, he won the WIAC championship in the indoor 5,000 meter run and the 3,000 meter steeplechase in 2022…"
A video from the race may be viewed here.
Further reports on the event from the WIAC website:
Three Teams In Top Seven At NCAA Men's Outdoor Track & Field Championship; Six Claim Titles
ROCHESTER, N.Y.–Three Wisconsin Intercollegiate Athletic Conference (WIAC) teams placed in the top seven following three days of competition at the NCAA Division III Men's Outdoor Track & Field Championship. In addition, five conference individuals and one relay team claimed titles.
 
University of Wisconsin-La Crosse finished second with 49 points to fall short of the 60.5 points by Massachusetts Institute of Technology, which won its first-ever national championship. Rowan University (N.J.) and John Carroll University (Ohio) took third with 39 points, while UW-Eau Claire was fifth with 37 and UW-Whitewater tied for seventh with 24.
 
Additional WIAC team finishes included: UW-Oshkosh 13th with 17 points; UW-Platteville 14th with 16; and UW-Stout tied for 40th with six. A total of 78 teams scored points at the national event, which was hosted by St. John Fisher University (N.Y.) and Visit Rochester.
 
UW-La Crosse's Sam Blaskowski won the 100-meter dash for the second straight season with a time of 10.13 seconds. The mark established a NCAA Division III Championship record. Blaskowski also contributed to the triumphant 4×100-meter relay that posted a time of 39.96 seconds. He was joined by Ryder Smith, Spencer Reichart and Luke Schroeder. It is the fifth time UW-La Crosse has won the event (2004, 2015, 2018, 2021).
 
UW-Whitewater's Christian Patzka also established a NCAA Division III Championship mark with a first-place time of 8:42.46 in the 3,000-meter steeplechase. He is the second individual in program history to win the event, joining Dawson Miller (2015).
 
UW-Eau Claire had a pair of individual champions, as Yakob Ekoue secured the shot put with a heave of 57-10 1/4 (17.63m) and Mitch Stegeman claimed the decathlon with 7,165 points. Ekoue is the fourth individual in program archives to win the event, joining Roger Steen (2015), Alex Mess (2016) and David Kornack (2019). Stegeman is the third Blugold to emerge with the decathlon crown, joining Brandon Zarnoth (2015) and Marcus Weaver (2021 and 2022).
 
UW-Platteville's Will Lawrence was victorious in the javelin with a toss of 236-8 (72.14m). It ranks as the fifth-best throw in NCAA Division III history.
 
The following individuals from the WIAC earned All-America recognition from the U.S. Track & Field and Cross Country Coaches Association for placing in the top eight of their event:
 
100-Meter Dash:  Sam Blaskowski (UW-La Crosse-Champion)
 
200-Meter Dash:  Sam Blaskowski (UW-La Crosse-Second); Londyn Little (UW-Oshkosh-Seventh)
 
800-Meter Run:  Cael Schoemann (UW-La Crosse-Fifth)
 
1,500-Meter Run:  Steven Potter (UW-Oshkosh-Seventh)
 
10,000-Meter Run:  Ethan Gregg (UW-La Crosse-Second); Gunner Schlender (UW-Whitewater-Third)
 
3,000-Meter Steeplechase:  Christian Patzka (UW-Whitewater-Champion); Adam Loenser (UW-La Crosse-Seventh)
 
4×100-Meter Relay:  UW-La Crosse (Ryder Smith, Sam Blaskowski, Spencer Reichart, Luke Schroeder-Champion); UW-Oshkosh (Joey Kean, Aaron Richardson, Londyn Little, Rashaad Henderson-Fourth)
 
4×400-Meter Relay:  UW-La Crosse (Chase Doornink, Addison Hill, Tyler Backes, Caden Pearce-Fourth)
 
High Jump:  Daniel Inyang (UW-Platteville-Sixth)
 
Long Jump:  Sam Blaskowski (UW-La Crosse-Seventh)
 
Triple Jump:  Shelvin Garrett II (UW-Whitewater-Second); Jonathan Wilburn (UW-Oshkosh-Fourth)
 
Shot Put:  Yakob Ekoue (UW-Eau Claire-Champion)
 
Discus:  Yakob Ekoue (UW-Eau Claire-Second); Justin Eichler (UW-Platteville-Seventh)
 
Hammer:  Yakob Ekoue (UW-Eau Claire-Third); Justin Eichler (UW-Platteville-Seventh)
 
Javelin:  Will Lawrence (UW-Platteville-Champion) 236-8 (72.14m)
 
Decathlon:  Mitch Stegeman (UW-Eau Claire-Champion); Mason Barth (UW-Stout-Third); Charlie Nolan (UW-Oshkosh-Seventh); RJ Bosshart (UW-Oshkosh-Eighth)