UW- Whitewater achieves record graduation rates
The University of Wisconsin-Whitewater has attained a 6-year graduation rate of 62.5%, a record for the institution and a critical measure of student success. The university's 4-year graduation also set a record, at 39%.
"I am very proud of these benchmarks," said Greg Cook, interim provost and vice chancellor for academic affairs. "We've put great effort into supporting student success and encouraging on-time graduation. Our 6-year rate is very strong compared to national averages, especially when adjusted for the profile of our students. A commitment to timely graduation also underscores our exceptional value at a time when students and their families want to know they are making a good educational investment."
Cook emphasized that the university achieved this success while still staying fully committed to being an institution of access.
"Our access mission means that we admit students with a broader range of academic profiles than many of our fellow UW System universities; for example, more than 40 percent of our students continue to be the first in their families to attain a college degree," said Cook.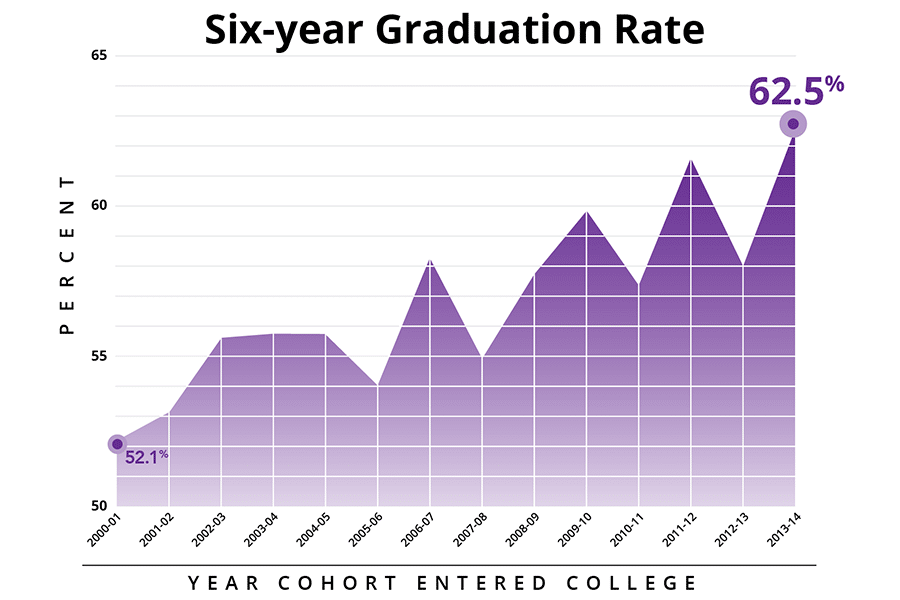 In fall 2019, UW-Whitewater enrolled 12,448 undergraduate and graduate students on its Whitewater and Rock County campuses.
In addition to record graduation rates, the university has a second-year retention rate — meaning the number of students who return after their first year of college — of 80.1%, which is seven percentage points higher than similarly selective public institutions in the U.S. and three percentage points higher than the UW System regional comprehensive institutions.
Explaining the record rates, Matt Aschenbrener, associate vice chancellor for enrollment and retention, emphasized the collaborative nature of the campus-wide effort to encourage retention and continued progress toward graduation.
"We have great partnerships across campus, including First Year Experience, the Academic Advising and Exploration Center, University Housing, Student Affairs, Student Diversity, Engagement and Success, and Financial Services," Aschenbrener said. "In keeping with our Warhawk family spirit, we all work together to coordinate efforts to support students as they work toward graduation."
"A big factor in student success is the relationships they form with their faculty and instructors," adds Cook. "One of the benefits of our smaller class sizes is that professors are able to provide the attention and care the students in their classrooms need, whether it's helping them through a rough spot academically or pointing them to scholarship or internship opportunities."