The listings that were provided to the Banner have been supplemented with a number that were published in the Daily Jefferson County Union, marked with a *.
EAST SIDE
274 Lakeview Dr.
FRI. 5/13 8:30am-5:30pm, SAT. 5/14 8:30am-5:30pm, SUN. 5/15 8:30am-2:00pm
Boy's Clothing (Size 6-12), Toys (Roblox, Minecraft, Star Wars, Minions, etc.), Board Games, Furniture, Household Items, Women's & Men's Clothing.

720 E. Chicago St.
Friday and Saturday 9-5.
Redwing 5, 4 and 3 gallon jugs and many more crocks, Miller beer signs, night stand, coolers, fertilizer spreader, iron patio chairs and household items, antique commode, Rowe pottery, Graniteware, oak fern stand, Eddie Walker figurines, lawn edger. No clothes. Garage is full!
*164 S. Ash Lane
Fri 9-6, Sat. 9-7
Huge sale! Most clothing $1! Baby, kids & adults name brand items. Grill, home decor, work bench, much more!
*336 Lakeview Dr.
Sat 8-4, Sun 8-4
Household items, men's clothes, camping, books, DVDs & CDs, seasonal, other misc items.
*634 Darcy Ln
Fri 8-4, Sat 8-4
Furniture, kitchenware, collectibles, clocks, bedding, pet supplies, large pet ramp, tools, wheelchair, walker, bath chair, DVDs, Kuerigs, books & much more!
WEST SIDE
1680 Turtle Mound Lane
Garage Sale Friday May 13 and Saturday May 14 8:00-4:00
A ton of baby items and toys that are in great condition. Also home decor, patio set (table and 4 chairs), furniture and many other treasures
476 S. Buckingham Blvd.
No More Babies! Garage sale this Friday, 8-4 at 476 S. Buckingham Blvd., Clothing: Organized, gently used boy clothes, newborn – 3T. Brands include Cat & Jack, Carters, Oshkosh, Old Navy, North Face, and Columbia. Also men's S – XL, and women's XL.
Additional child items: Crib and changing table, baby toys, Kelty Summit carrier, ergobaby carrier and high chair.
Households, antiques, construction items, exercise bike and much more.
Multi house sale at 1107, 1130 and 1145 W. South St. (By the high school)
1148 W. South St. will have a Saturday sale only.
Garage sale on Thursday-Saturday May 12-14. Thursday and Friday 8-3 pm. Saturday 8-12 pm

2 couches, round dining room table with leaves, bench, microwave, printer, king bed frame and box springs, queen frame, AG dolls, Barbies, Disney Princess Play Pretend kitchen, skis, ski boots, a grill, tools, wii system with games, softball and soccer cleats, kamik kids snow boots, shoes, household goods, kids books, toys, DVDs, CDs, squishmallows, jewelry, men's, women's, teens, children clothing and lots more!!!
284 S. Woodland Dr
Friday 10-3:30
Saturday 8-3:30
1248 W. Court St.
8:30-4:00
Tools, fishing gear and sports teams cups.
1204 W. Laurel St. – Estate Sale.
May 13,14,15 Fri.-Sun. 9 a.m. – 3 p.m.
Antiques, appliances (small), furniture (indoor & patio), games & books, glassware, kitchen items, pins & stamps, seasonal decorations, tools & much more. All to go!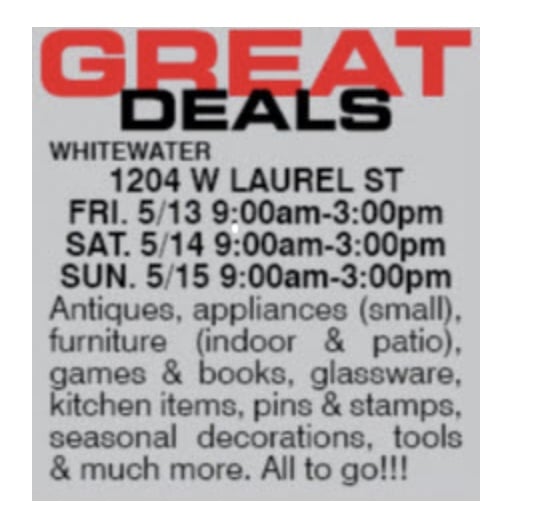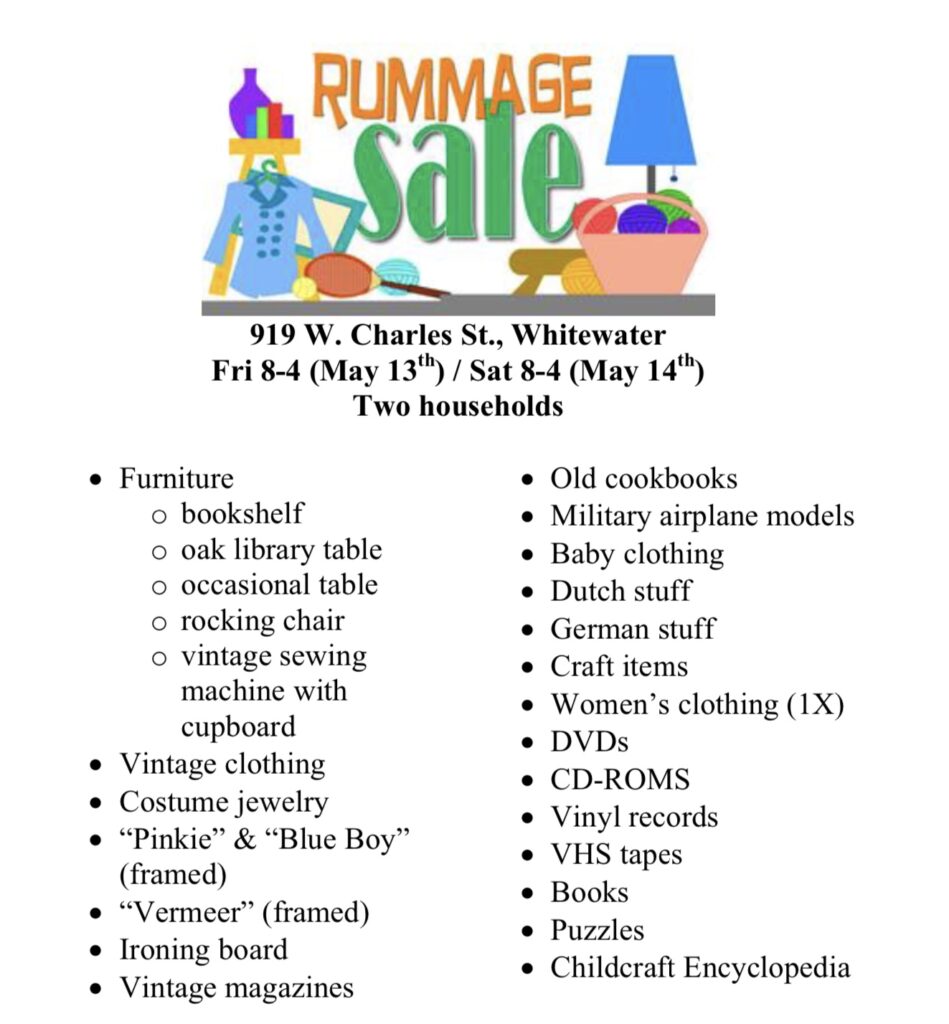 *1180 Bloomingfield Dr., #401
Fri., 8 a.m.- 4 p.m., Sat. 8 a.m. – 4 p.m., Sun. 9 a.m. – 3 p.m.
Lots of tools, furniture, misc household items. Everything must go! Spring cleaning!
*1180 Bloomingfield Dr., #103
Fri. 9-4, Sat. 9-4
Liquidation of flea market items. Something for everyone. Antiques, collectibles, pickers welcome.
*340 S. Woodland Dr.
Fri 9-3, Sat 9-3
Girl's bedroom set, books, toys, games, seasonals, household items, baby items, clothing – boys 24mo/2T, girls size 6, and more!
*755 N. Tratt St., Lot 200
Fri 8-5, Sat. 8-5, Sun 8-2
Tools, pet supplies, home goods, crafts, infant items, kitchen items, brand new clothes, camping equipment, car accessories and MUCH MORE!
OUT OF TOWN
*N158 Howard Rd
Fri 9-4, Sat 9-4
Antiques, collectibles, vintage items, toys, women's clothing, farm primitives, lots of tools, household items, lots-o-stuff! No baby items.
A Banner Service: Garage Sale Ads
As a result of a reader's comment that it's hard to find garage sales in Whitewater now that we no longer have a weekly shopper, the Banner staff agreed to begin a "consolidated" garage sale posting that will be published by Thursday morning for the upcoming weekend's sales. This announcement will only be for garage sales (a sale of miscellaneous household goods, often held in the garage or front yard of someone's house) in the city and school district boundaries. We will not be accepting, for example, ads for cars or other items that are not part of a scheduled garage sale. There will be a limit of three times per year for a particular property. Although we may eventually make a small charge for this service, initially it will be complimentary.
Those wishing to place a notice must send the information to whitewaterbanner@gmail.com by Wednesday at 6 p.m. You may include a brief description of the items that are for sale, the hours and days of the sale, and of course your address.