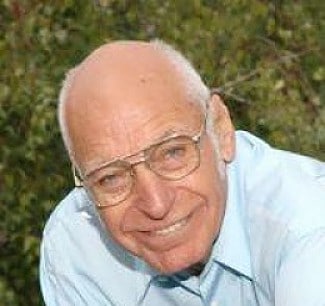 (UPDATE – July 29) – A Celebration of Life Service will be held for Robert Markham at St. Patrick Catholic Church in Whitewater, WI at 1:30 p.m. on Sunday, Aug. 1, 2021. No flowers please.
For all the truckers, there will be a procession of semi trucks from the church to the Farm. No trailers please.
Following that, an informal, outside gathering of friends and family will take place at Dave Triebold's Farm at N7618 Engel Rd. in Whitewater. Food will be catered by Annie's.
Robert Millard Markham
October 7, 1928 – July 19, 2020
Robert "Bob" Millard Markham of Pharr, TX passed away on Sunday, July 19, 2020 at the age of 91. Bob died peacefully with his beloved wife Shirley by his side. Bob was born in Eagle,WI on October 7, 1928, to Millard Brown Jr. and Mary Anna (Braun) Markham. The oldest of 14 children, he graduated from Whitewater High School in three years. He was drafted by the Army at age 22 and stationed in Germany from 1950 -1952. He married Shirley Mae Kau on October 2, 1954. In 1957, he started Markham Trucking Service. He continued operating this business until he retired in 1991. After retiring, Bob and Shirley traveled across the country in their custom RV for over 20 years, finally settling in Pharr, TX where they enjoyed square dancing.

Bob was preceded in death by his parents; and his brothers: Kenneth, Donald, and Gordon; as well as his sisters, Rose Jones and Elizabeth Fetting. He is survived by his wife Shirley Mae Markham; children: Carol Tiffany, Jeff (Kathleen) Markham, Holly Hoff, Brad (Diane) Markham and Russell Markham; grandchildren: Tiffany (Brad) Gretschmann, Alicia Markham, Emily Markham, Andi Markham, Josephine (Wyatt) Bennett and Jeremiah (Jess) Markham; great-grandchildren, Eli and MacKenzie Gretschmann; and siblings: Duane (Lorraine) Markham, Gerald Markham, JoAnne Flahive, Glen (Rose) Markham, Roger (Carol) Markham, David (Mary Ellen) Markham, Phillip (Barbara) Markham, and Kathleen (Richard) Brinkhaus.

A celebration of life service will be held in the coming year.