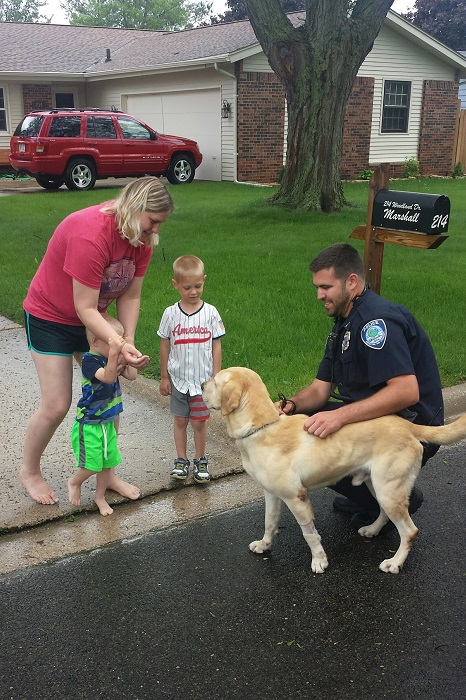 A remembrance ceremony will be held Thursday, August 23 at 6:30 pm for Whitewater Police Department K-9 Officer, Ruso. A Pagoda Dogwood tree has been planted in Ruso's honor. The tree and a memorial placard will be revealed at the ceremony and are placed in the Ray Trost Nature Preserve located off North Fremont Street. Ray Trost was a Whitewater Officer from 1991 to 2010. The preserve was created in Ray's honor after his passing in 2010. The Whitewater Police Department and Trost family felt it was a fitting location to also celebrate the life of K-9 Officer, Ruso.
City Manager, Cameron Clapper; Chief of Police, Aaron Raap; and Ruso's handler, Justin Stuppy will be in attendance. The ceremony is open to the public to remember and celebrate Ruso. Ruso developed a kidney issue and underwent a very common surgery but sadly, his kidneys did not perform as expected. Ruso passed away July 27, just over a year of being sworn in on June 6, 2017.
Ruso was a high energy, 3-year-old Labrador retriever from Mexico. He graduated from Little Rock K-9 Academy after months of training and excelled in drug searches.
Ruso will be greatly missed by the Whitewater Police Department, city staff, and the Whitewater community.