An elite team of economics students from the University of Wisconsin-Whitewater joined Chancellor Beverly Kopper at the UW System Board of Regents meeting in Madison on Thursday, Feb. 8, 2018, following their national finish in the College Fed Challenge.
The students are members of the team that competed against some of the world's most prestigious universities at the 14th Annual College Federal Reserve Challenge in Washington, D.C., in December. UW-Whitewater is the first-ever Wisconsin university to advance to this national event after defeating Northwestern University, the University of Chicago, and Marquette University at the competition held at the Federal Reserve Bank of Chicago in order to become regional champions.
Advancing to the national event, the UW-Whitewater team competed in finals held at the Board of Governors of the Federal Reserve System in Washington, D.C. This event served as the capstone to five district competitions held around the country, and UW-Whitewater competed against regional winners Harvard University, Pace University, Princeton University and Virginia Commonwealth University.
Pace University took first place in the national competition, which encourages students to learn about the U.S. economy, monetary policymaking, and the role of the Federal Reserve System. Harvard University took second place, and UW-Whitewater joined Princeton University and Virginia Commonwealth University in receiving honorable mentions.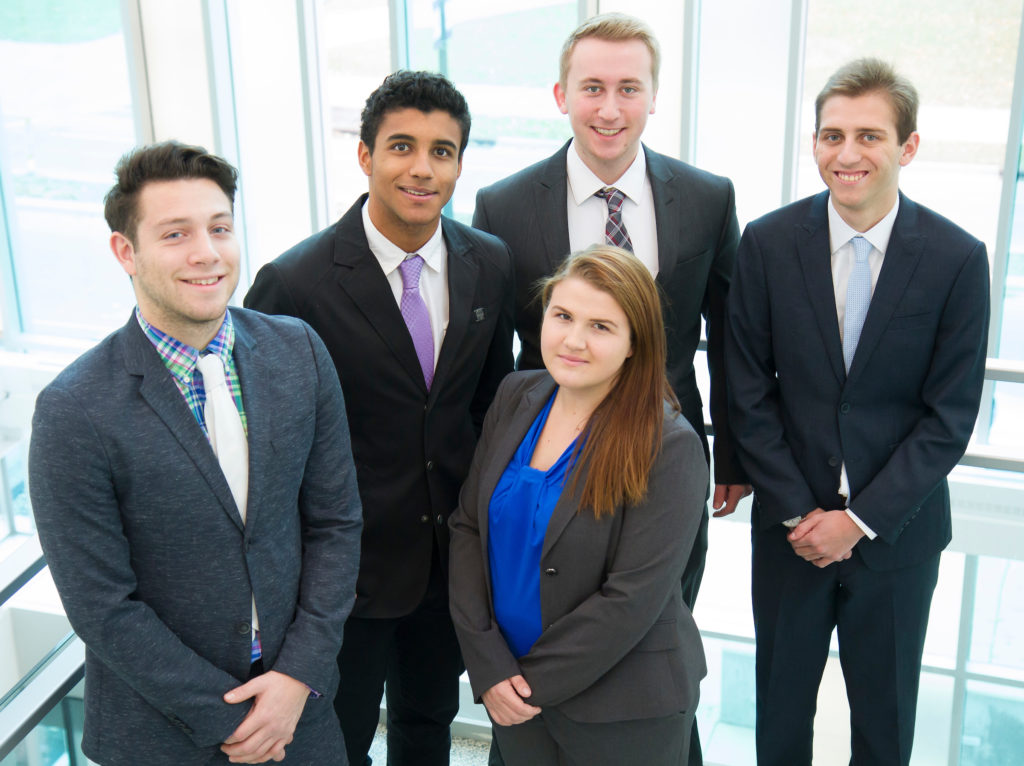 Managed by the Board of Governors of the Federal Reserve System, the College Fed Challenge is an academic competition designed to bring real-world economics into the classroom. Teams analyze economic and financial conditions and make a recommendation for monetary policy. They are scored based on a 15-minute presentation and a 15-minute question-and-answer session with judges.
The UW-Whitewater Fed Challenge team met with the Research, Economic Development, and Innovation Committee on the UW-Madison campus as part of the Board of Regents February meeting. Attending were Fed Challenge team members Mark Ellis of Buffalo Grove, Illinois, Alejandro Esquivel of Milwaukee, Wisconsin, Taylor Griffith of Lake Elsinore, California, Ronald Tittle of Crystal Lake, Illinois, and Alexandre Vieira of Brookfield, Wisconsin, along with non-presenting team members Casey Russell of Belleville, Wisconsin, Alujjage Pasan Samaranayake of Gonapola Junction, Sri Lanka, Sean Spangard of Crystal Lake, Illinois, and faculty members Yamin Ahmad, Stuart Glosser (emeritus), Nick Guo, and Eylem Ersal, who serve as team coaches.