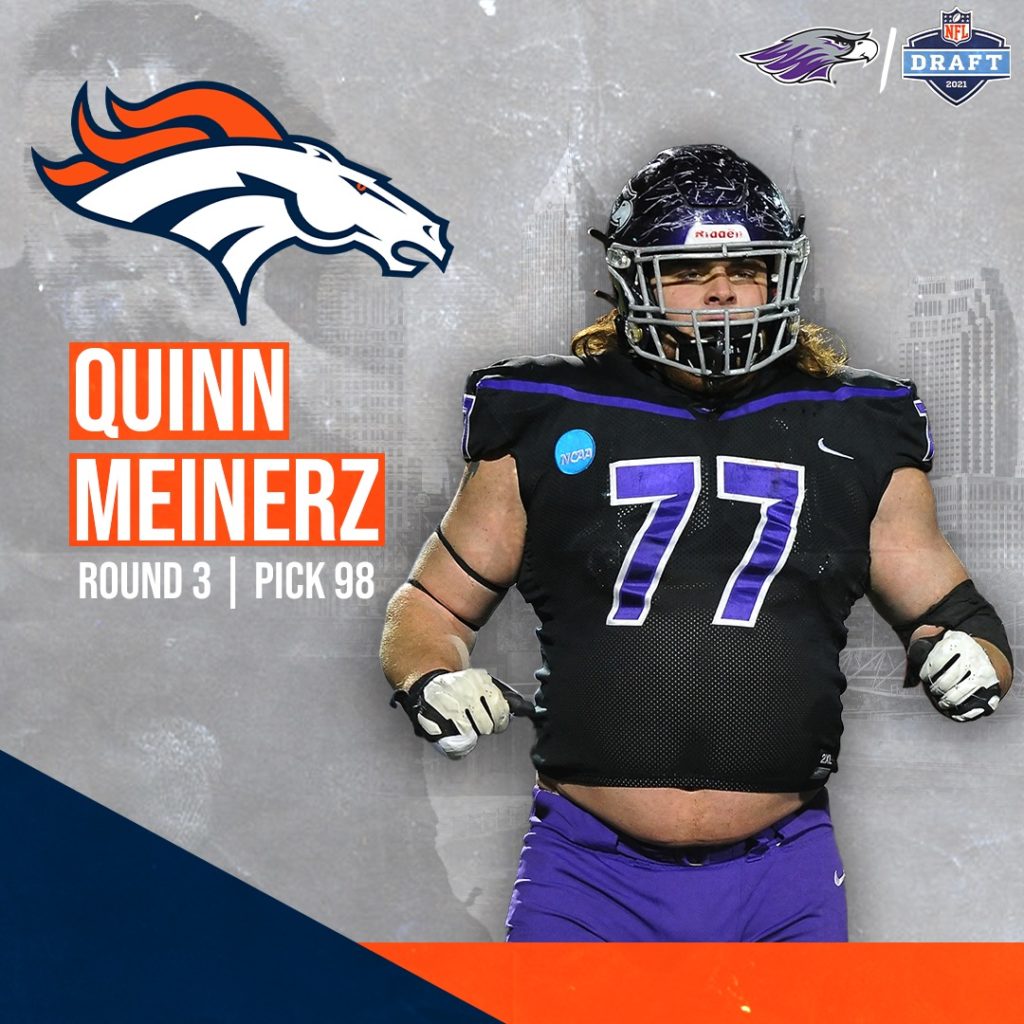 By Lynn Binnie
Whitewater Banner volunteer staff
whitewaterbanner@gmail.com
Quinn Meinerz NFL Draft Profile
Position: Offensive Line
School: Wisconsin-Whitewater
Current Year: Senior
Height: 6'3 1/4″
Weight: 320 pounds
Wingspan: 82″
Arm: 33″
Hand: 10 1/4″
Quinn Meinerz, a 2021 UW-W graduate whose senior year's football season was canceled by COVID-19, didn't let that slow him down, and his efforts were rewarded as he was drafted by the Denver Broncos in the third round of the NFL draft on April 30, the 98th pick overall. According to the Milwaukee Journal Sentinel, Meinerz became the first Whitewater player drafted since wide receiver Derek Stanley was taken by the Rams in the seventh round in 2007.
Meinerz, a graduate of Hartford High School, developed into an All-American guard as a junior at UW-W. Nicknamed " The Gut " for sticking out his belly on hot days, Meinerz put himself through a strenuous training regimen during the past year, losing weight and teaching himself the center position. That earned him an invitation to the Senior Bowl in Alabama in January, where he attracted a lot of media attention. Since then he had been rumored to be on draft radar by a number of teams.
"He did kill people," ESPN analyst Mel Kiper Jr. said during the network's broadcast. "And if you're going to play in the NFL, you better dominate. And this kid did.
"He will be a center-guard option in the NFL. You look at the way he played. Heavy punch. The alertness to pick up stunts I love. Run blocker, he drives defenders off the ball."
"This is a guy that went down to the Senior Bowl and made a name for himself," ESPN analyst Booger McFarland said during the network's broadcast. "He was the show."
Broncos general manager George Paton, meeting with reporters, noted it was difficult to evaluate Meinerz because Whitewater's 2020 season was canceled. "There were a lot of unknowns about him," Paton said. "Then when you see him in one-on-one drills blocking these guys who are first- and second-round picks, it was pretty amazing.
"It's been an amazing process," Meinerz said. "To be Division III, have my season canceled. … To be able to climb up the boards like I did, it doesn't happen very often."
Milwaukee Journal Sentinel: Offensive lineman Quinn Meinerz becomes the first UW-Whitewater player drafted in 14 years
The Denver Post: Broncos draft offensive lineman Quinn Meinerz at No. 98 overall