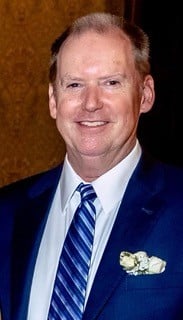 THOMAS EDWARD GANFIELD
Thomas ("Tom") Edward Ganfield, age 60, at rest August 13, 2022 when he was surrounded by his loving family. Thomas was born in Chicago March 23, 1962 to the late Muriel (Davis) and David Ganfield. He graduated Loyola Academy in 1980, attended the University of Michigan, and then graduated Knox College in 1984. He completed his graduate studies at Duke University, earning a master's degree in environmental engineering in 1985.
He started his work career as an environmental scientist with the State of Missouri in Jefferson City, MO, then to Woodward-Clyde Consultants in Chicago, and lastly at Baxter & Woodman in their Burlington, WI office. It was then that he moved to his beloved lake home on Whitewater Lake in southeast Wisconsin, where he had happily lived for the past 22 years.
Earning an early retirement in 2019, Thomas served his clients with considerable expertise as a wetlands specialist engaging in environmental impact assessments, wetlands restoration, and water quality issues. He was deeply involved in volunteer efforts with myriad local environmental and community causes, as well as writing short stories and plays and researching family history. He was an inveterate Chicago Cub fan.
Thomas Ganfield was a true "man for others"; his brother and family meant everything to him. He was a man of strong principles and lived his life according to them: faith, family, and community service. To his family and friends, he was also a model of strength and will be most remembered for his gentle and kind spirit, love, passion, and acceptance. Indeed, he was loved by everybody who knew him and will be sorely missed.
He is the beloved brother of David (Jeanne) of Lake Bluff, IL; adoring nieces Jacquelyn Ganfield and Lindsay (Drew) Barrios both of Chicago, IL, and nephew Peter Ganfield of Denver, CO; cousins, and many friends.
Visitation Saturday, August 20, 2022 9:30 a.m. at Wenban Funeral Home, 320 Vine Avenue, Lake Forest, IL, with celebration of Thomas' life to follow 11:00 a.m. at The Church of the Holy Spirit, 400 E. Westminster, Lake Forest, IL 60045. In lieu of flowers, memorial donations may be made to the Humane Society of Jefferson County, W6127 Kiesling Rd., Jefferson, WI 53459 https://hsjc-wis.com/donate/
Info: Wenban Funeral Home, www.wenbanfh.com or (847) 234-0022.