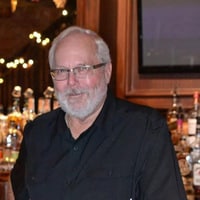 Richard T. MacCoy, age 75 of Lyndon Station, Wisconsin passed away unexpectedly on Monday, May 15, 2023.
A Celebration of Life Gathering for Rick will be held on Sunday, June 25, 2023 from 1:00 – 4:00 p.m. at Bobbers Island Grill, 750 Wisconsin Dells Pkwy S, Wisconsin Dells, and we ask everyone to wear a "Hawaiian Shirt" in memory of Rick.
Rick was born on September 29, 1947 in Superior, Wisconsin, the son of Mayson and Maribelle (McNamara) MacCoy. After high school Rick proudly served our country in the US Army and serving a tour over in Vietnam. He married Nancy Nelson on June 22, 1996 and the couple enjoyed 26 years together. Rick spent most of his life in the hospitality industry running The Real MacCoys Restaurant in Delavan, Wisconsin. In 2004, Rick purchased a vacation home in the Wisconsin Dells area. Rick and his wife, Nancy, spent many years back and forth between the two towns running the business and enjoying life to the fullest making many friends along the way. In 2016, a fire destroyed the restaurant but the namesake lived on, as Rick reopened The Real MacCoys in a new building and location in Whitewater, Wisconsin. Shortly after that, Rick decided to hand over the operation of the business to his wife, Nancy telling her, "Make more money and don't break anything!" and retired to the Wisconsin Dells area full time.
Anyone who knew Rick, knew he had a huge heart. He would welcome anyone that needed a place to stay, an ear to listen to, company to grab a bite to eat with, a cocktail to toast with or just a laugh to have with. Rick really would do anything for anyone he would come in contact with and will be greatly missed by all those lives he touched. Rick also enjoyed his time with his grandchild "his buddy" Chase and his beloved cats and guinea pig.
Rick is survived by his loving wife Nancy, his daughters; Angie (Adam) Brown, Kristie Maccoy, Kelly (Jimmy) Beard and Sally Wilcox. He is also survived by his brother Denny, sisters Pam (Tom) Krugler and Mary Ellen Murry; his grandchildren Jordan Brown, Joshua (Amanda) Brown, Hayley (Jake Harmelink) Brown, Spencer Beard, Samantha Beard, Chase Wilcox, James Wallace and Rachelle Smith; great-grandchildren Lillian and Scarlet. He is also survived by nieces, nephews, other relatives and many friends.
He is preceded in death by his parents and an infant brother.