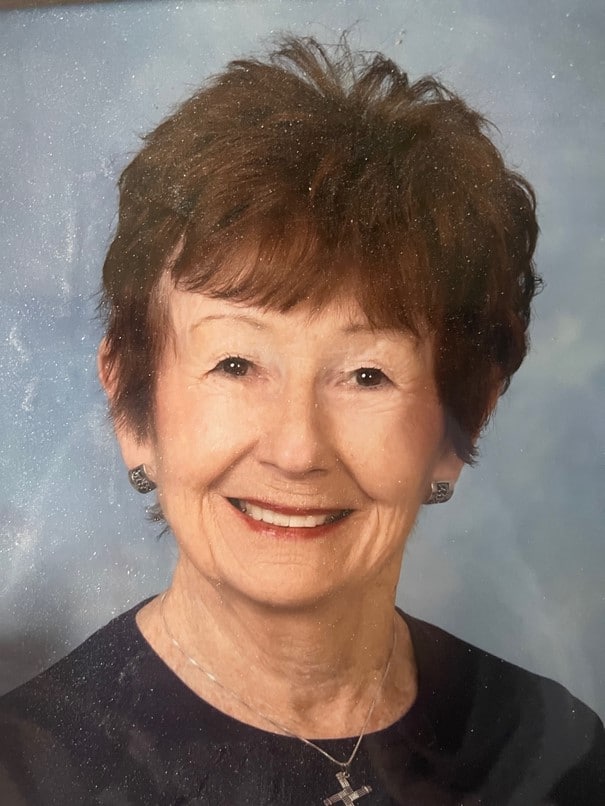 Nancy Jo Fardy,
(New Berlin, WI)
Nancy went to Heaven peacefully on April 15, 2022 at age 85. Nancy is survived by her beloved sister Patricia Roberts, and her brother Bill Fardy, cherished nieces and nephews, and many dear friends. Preceded in death by her parents Mike and Helen Fardy, her sister Jeanne Trewyn, brother-in-law George Roberts, and sister-in-law Mary Lou Fardy.
Nancy was born on July 12, 1936 in Coffeeville, Kansas, the youngest of 4 children. The Fardy family moved to Whitewater, Wisconsin when Nancy was a young girl. After graduating from Whitewater High School, Nancy went to Spencerian Business School in Milwaukee then worked for 39 years as an Administrative Assistant with the Milwaukee Police Department.
After retiring from the Police Department, Nancy worked part time at Marshall Fields.
Nancy was an active parishioner at Holy Apostles Church and member of the Choir. Nancy was also a member of the Shamrock Club of Milwaukee and the Choir. You could find Nancy marching in St. Patrick's Day parades, bartending at Irish Fest, singing in the Mass at Irish Fest, and listening to Irish and Celtic music.
Nancy was also a committed volunteer to many other organizations, including the Ronald McDonald House, Waukesha Memorial Hospital, and the New Berlin Library.
Nancy was fun, loving, adventurous, loyal, kind, and incredibly generous. Nancy was all about Wisconsin sports—a very loyal and vocal Green Bay Packers and Milwaukee Brewers fan. She loved to travel—around the country, as well as international. Her travel companions included family, friends, and elder hostel groups. Nancy was all about family—such a presence at every holiday, party, and family gathering. Nancy always took the time with friends, her brother and sisters, and her many nieces and nephews. She will be missed by all.
A visitation is being held this Friday, April 22nd at HOLY APOSTLES CATHOLIC CHURCH, 16000 W. National Ave. New Berlin, from 10:00 a.m. until time of the Mass of Christian Burial at 11:30 a.m.
The Fardy family wishes to express their appreciation to the doctors, nurses and other caregivers at Waukesha Memorial hospital and Angels Grace hospice for their dedication and compassionate care.
For those wishing to make a gift in Nancy's memory, the family invites you to give to any of these charities: Ronald McDonald House, Holy Apostles Church, or Irish Cultural & Heritage Center of Wisconsin.
Church & Chapel Funeral Service Serving the Family
Milw. 262-827-0659 Wauk. 262-549-0659
Online Obit, Condolences, Directions
www.churchandchapel.com