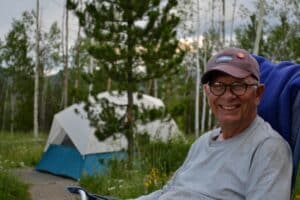 Larry Edward Heesch, 75, residing in Whitewater, Wisconsin, passed away peacefully on Wednesday, September 14, 2022. Larry was born August 21, 1947 in Inglewood, California. He grew up in sunny southern California where he enjoyed time at the beach riding the waves and playing volleyball. He was an accomplished amateur photographer, even learning how to develop his own film. Additionally, Larry enjoyed not only driving sports cars and off-roading, but also maintenance and repair; his prized 1984 Bronco is still running. His family and friends always will remember his sense of humor.
After graduating from Mount San Antonio Community College in Walnut, California, Larry attended Western State College in Gunnison, Colorado. He graduated in May 1971 with a business degree. Larry was fortunate to work in a life-long career in finance that melded his expertise in his field with personal job enjoyment and fulfillment.
After moving to Colorado, Larry transferred his love of the beach to love of the mountains. In the winter he went downhill, cross-country, and telemark skiing. In the warmer months, he enjoyed backpacking, hiking and camping as well as fly fishing for rainbow trout. He became a cycling enthusiast, biking in Colorado, California, and Venezuela.

He is survived by his mother, Phyllis Heesch; daughter, Ashleigh (Corey) Bruns; granddaughter, Emilie Bruns and grandson, Dean Bruns. He was preceded in death by his maternal grandparents Emil and Elsie Heesch.
Celebration of life service will be at Millard Community Covenant Church in Elkhorn, WI on September 19, 2022 at 1:00 pm. For online condolences and guestbook, please visit: Nitardy Whitewater, WI.
A special thank-you to the staff at Our House who lovingly cared for Larry and to Agrace Hospice for providing contentment and comfort for Larry as he prepared to join his Father in Heaven.
Nitardy Funeral Home is assisting the family with arrangements. Online condolences can be made at www.nitardyfuneralhome.com