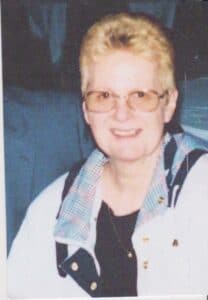 Cynthia Lea (Omholt) (Luebke) DeMott, age 78, of Goetzville, Michigan, died at the Hospice House of the EUP in Sault Ste Marie, Michigan, on June 29, 2022. She was born in Hustisford, Wisconsin, on January 12, 1944, to Gail and Elizabeth (Culton) Omholt.
Cynthia went by the name Cindy and grew up in Whitewater, Wisconsin, and graduated from Whitewater High School. She married her high school sweetheart, Gerald "Jerry" DeMott, and they settled in Burlington, Wisconsin, for the next 8 years, and started raising their children. They moved back to Whitewater, Wisconsin and had their third child, and lived there for 23 years, before moving to Marshfield, Wisconsin, and then Stratford, Wisconsin. After working for a year at the home for the elderly, they opened their own home for the elderly in 1993. In 2008, they moved to Eastern Upper Peninsula to be a servant to a local church.
In 2014 both Jerry and Cindy joined the fellowship with Cornerstone Church in San Antonio, Texas. The John Hagee Ministry was a blessing they enjoyed.
In her quiet time, Cindy loved to read scripture and things pertaining to scripture. Fishing, camping, and going out dancing were favorite activities she enjoyed.
Cindy is survived by her husband, Jerry DeMott; son, Curtis DeMott of Lexington, Kentucky; daughter, Renee Hansen of Janesville, Wisconsin; grandchildren, Dan, Megan, Brent, Sophie, and Samuel; one great-grandchild; brother, Murry Luebke of Evansville, Wisconsin; sister, Karmyn Meissner of Janesville Wisconsin; brother-in-law, Lester (Joyce) DeMott of Milton, Wisconsin; sisters-in-law, Sister Marguerite DeMott of Elm Grove, Wisconsin, Norma Killips of Whitewater, Wisconsin and Sister Frances (Merel) DeMott of Wheaton, Illinois.
Cindy is preceded in death by her son, Martin DeMott; parents, Gail and Elizabeth (Omholt) Meissner; Brother-in-law, (Ben) Killips, Orson (Rosemary) DeMott, and Marcus (Mavis) DeMott; and sister-in-law, Joan (Edwin) Grossback.
A Celebration of Life will be held on July 16th at 10:00 to 10:30 visitation followed by the service at Harvestpoint Church, 209 S 4th Street, Delavan, Wisconsin 53115.