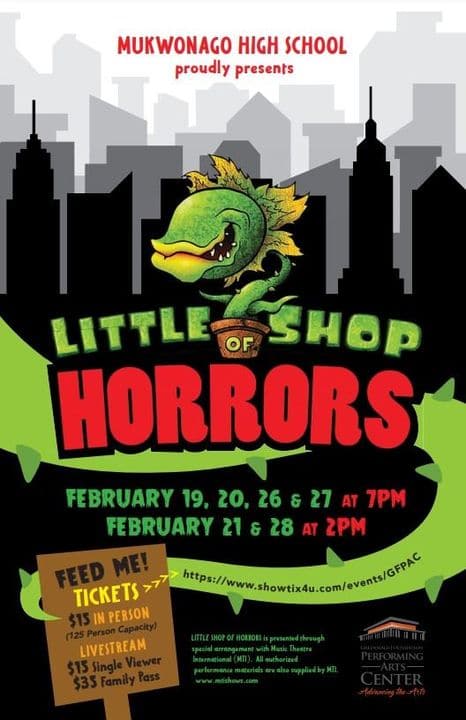 (Submitted by Gio Anello) Winter blues have you down? Are you missing live theater? Well the wait is over as Mukwonago High School proudly presents "Little Shop of Horrors" February 19, 20, 26, 27 at 7 p.m. and February 21 and 28 at 2 p.m.! The show can be seen LIVE at the Greenwald Foundation Performing Arts Center at Mukwonago High or can be viewed online via livestream for those who would feel safer watching it from the comfort of their own homes!
This dark comedy has a little bit of everything from upbeat music to slow, loving songs, from ethical dilemmas to greed and envy, and everything in between! "Little Shop of Horrors" has something for everyone and will be sure to leave you laughing until you're short of breath as well as on the edge of your seat waiting to see what happens next.
Bringing this show to life under the direction of Mr. Allen Zablocki are Jacob D'Amour as Seymour, Jessica Cottourone as Audrey, Eva Metrusias as the Voice of the Audrey II, Gio Anello as the Dentist, Marek Nettesheim as Mr. Mushnik, along with Monique Noll, Norah Samuels, Layla Nowak, Gwen Gunderson, Abi Knoerschild, and Erin Parrilli as the Urchins. Supporting these characters are the talented ensemble members Alyssa Natrop, Gabe Pett, Ryan O'Connor, Leighton Jeske, David Winarski, Julia Rady, Zoe Eineichner, Coleman Strand, Adrian Hudz, Ethan Forster, Maddie Whilhelm, Kaylyn Geuder , Zoe Pilant, Angelina Rodriguez, and Maddy Fleischer.
A limited number of in-person tickets are available for $15. Livestream the event for $15 (single viewer) or $35 (family pass). Tickets can be bought by going to https://www.showtix4u.com/events/GFPAC.
Please be aware that masks are required to be worn by audience members at all times. If you have a reason to not wear a mask, please purchase a virtual ticket.
The cast, crew, and creative team have been working very hard to make this show a possibility and a success. We would like to thank the Mukwonago Area School District administration for all of their support and permission to present this show in such a complicated time. We look forward to performing for and seeing YOU there!