(Whitewater Kiwanis Breakfast Club submission) The Whitewater Breakfast Kiwanis Club partnership with the Whitewater Community Foundation, the City of Whitewater, and the University of Wisconsin-Whitewater has currently raised $17,000 to enable children with disabilities to more fully enjoy the playground in Starin Park, with $23,000 more needed. Plans are underway to provide a "We-Go-Round," which is a merry-go-round designed to allow wheeled-mobility devices to fit in comfortably so all children can enjoy the experience. The "We-Go-Round" has a center post wheel for all children to use and create the spinning motion from inside and outside.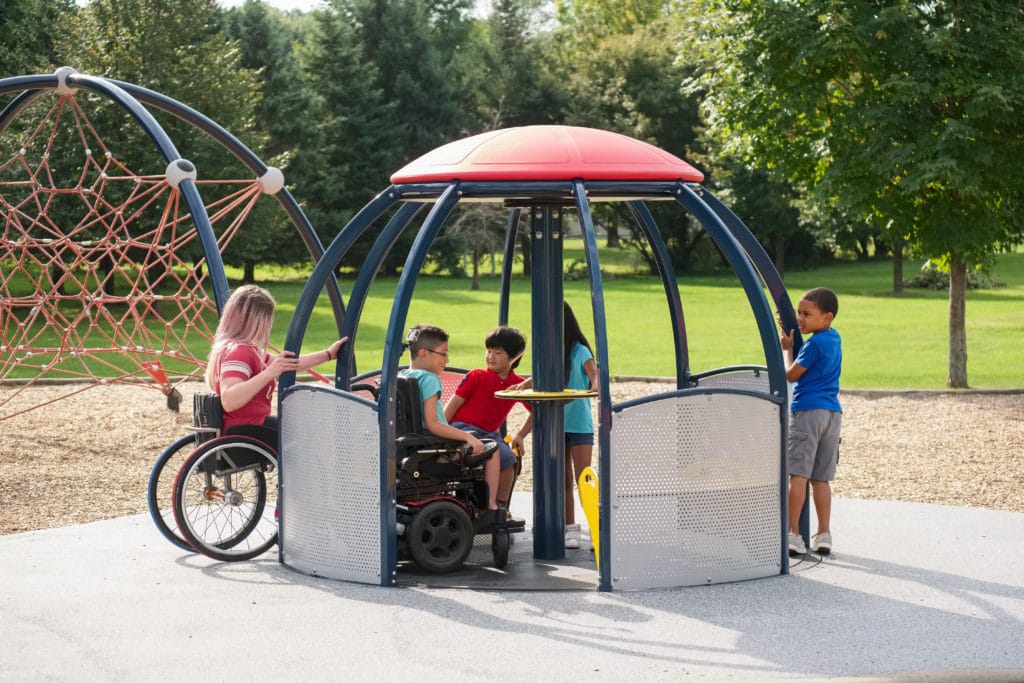 "This piece of equipment will make a huge difference to children with disabilities in Whitewater. All children can play together on the 'We-Go-Round.' We are seeking our community's help with donations to make this a reality," said Jean Bromley, President of the Whitewater Kiwanis Breakfast Club.

The "We-Go-Round" encourages social play for all children as both riders and pushers while they cooperate to make a fun experience for all. The children pushing work on motor planning and coordination through engagement of their muscles and joints. Kids utilize balance skills, along with core, lower and upper body strength. They will also use their cognitive skills for problem solving. This new equipment will bring imaginative play and the ability for all kids to socialize, no matter their degree of mobility.
"A huge thank you goes to the Kiwanis Club for wanting to add this fun piece of equipment to Starin Park," said Eric Boettcher, Parks and Recreation Director. "This new We-Go-Round will be a great addition allowing all children to participate and enjoy the playground. That is exactly what a playground should be, a place for
everyone to enjoy their experience."

UW-Whitewater will provide an in-kind contribution of $10,000 for the installation. The Whitewater Community Foundation has set up a fund for the project and donations can be made now. To donate, visit http://whitewatercommunityfoundation.org/donate/. Click the Donate Now button and the site will ask you to choose a dollar amount, how often you wish to donate and which cause you wish to support as there are additional options for donations. Donors can also choose to share a note of why you are gifting the money to the cause. Donations may be tax deductible.
Kiwanis is a global organization of volunteers dedicated to changing the world one child and one community at a time.