UW-Parkside was the host site for Saturday's CC invitational. The Whippets haven't been there in two years due to COVID, and it was thrilling being back. Although it is very tough to spectate, it is absolutely awesome for runners with the trails, forests, and varying terrain throughout the entire 3.1-mile racecourse. Bouncing back for their second race in the same week, several Whippets came away with strong races and a great effort notched on their belt.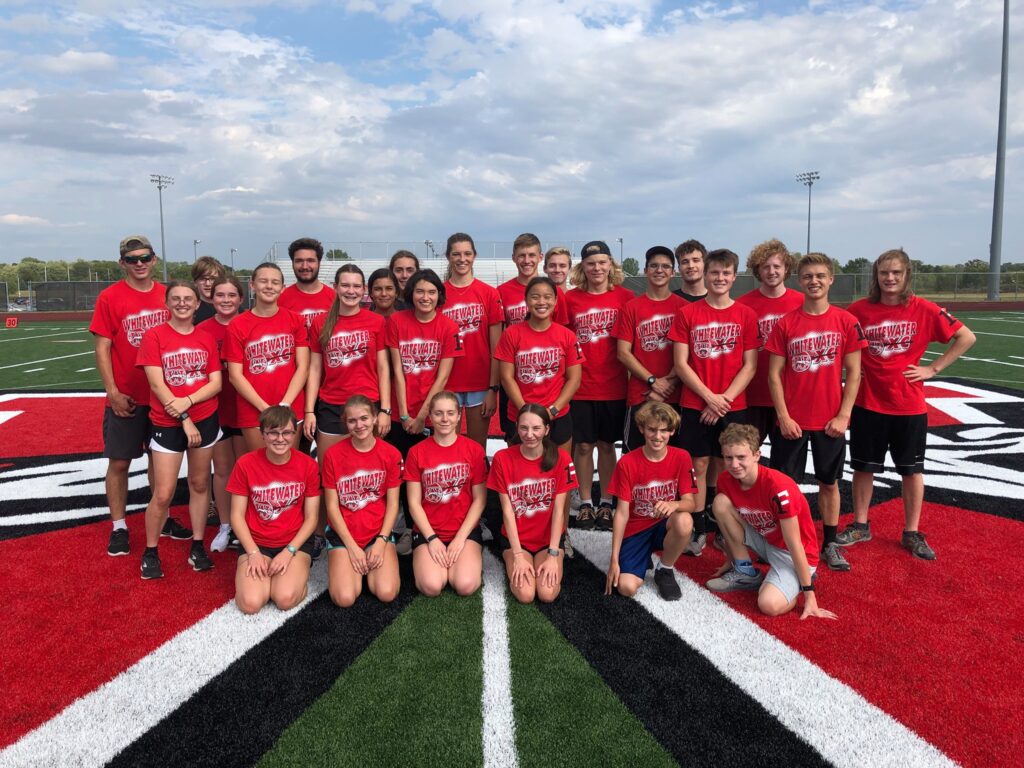 Jack Hefty continues to lead the boys and was the 3rd best freshman in the Varsity race that featured a significant portion of the event with D1-sized schools; Jack placed 30th in 17:27. Although his first three races have been close overall in terms of time, this is his best race so far due to the difficulty of the race course and level of competition at this meet. Cooper Hammond found himself in 83rd, with a time of 18:37. He is getting stronger on the hills and confident in the second half of the race. The boys' varsity team placed 21st out of 34 complete teams. In the JV race, Sterling Truesdale has been cutting large chunks of time off his race, and it is happening with his early race toughness to get out faster. He and Onyx Thompson were running side by side heading into the second mile, with Keith Cameron in pursuit. By the finish, Keith and Sterling had the same time of 24:37 and placed 187th and 188th, with Onyx not far back in 191st. It is great to see teammates finding each other and challenging each other on the race course. Senior Casey Schilling ran his lifetime best by placing 236th with a time of 28:19. Also running a lifetime best was freshman Xavier Zei placing 245th, with a time of 30:27. The JV boys' team finished in 20th out of 20 complete teams.
The girls' program had Sophie Walton resume the number one position by placing 99th in 23:52, which is the third race in a row she has run that time, but with the difficulty of the course, is her best race so far. Gwen Truesdale then led a trio of Whippets by placing 111th in 24:23, with Caelyn Caputo in 114th in 24:35, and Emma Weigel in 115th, completing the race in 24:41. Running strong races and once again cutting a few seconds off their best times of the season so far were Nole Coburn and Isabella Aranda. Rounding out Varsity was Jenny Villarreal, who also was just off her season best from Tuesday on the challenging course. The girls' varsity finished in 19th out of 21 complete teams.
The girls' JV race didn't have a minimum of 5 scoring runners required for a team score, but Evie Troxel was the top Whippet and ran a great race to place 108th in 28:12, showing the way for the two freshmen, Lucy Troxel and Sami Van Daele, who were not far behind in 111th and 112th overall.
Next up is the Janesville Midwest Invitational on Saturday, September 25th. Races are set to begin at 9:00 am from Blackhawk Golf Course. 
Full Results: http://wisconsinrunner.com/results/2021/2021angelinvite/
Article Submitted by Chad Carstens
Whitewater High School Head Cross Country Coach
ccarstens@wwusd.org