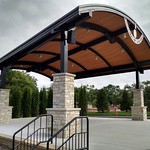 The City of Whitewater is excited to partner with the Whitewater Community Foundation to make it more efficient for residents to contribute towards projects they want to see in Whitewater. The Whitewater Community Foundation has set up a fund for the first city project, a new amphitheater planned to be built in Cravath Lakefront Park. The amphitheater project has been approved by the city council and is moving forward. The structure has been ordered by Polygon and is scheduled to be installed in spring of 2020. Additional items to enhance the amphitheater would include landscaping, lighting, and a new projection screen.
Citizens can donate by credit card on the Whitewater Community Foundation website to help with these additions to the new Cravath Lakefront Amphitheater. A company, organization or individual can choose to be the title sponsor and display their logo and/or name for the next 20 years at the top of the Cravath Lakefront Amphitheater for a $50,000 donation. Donations over $10,000 will be recognized on a plaque at the base of the structure.
"The City of Whitewater is excited to have a facility to bring people to the downtown and lake front," said Eric Boettcher, Parks and Recreation Director. "This new amphitheater should truly enhance existing events and music and we couldn't be happier to see it move forward."
To make a donation, click here. Click the Donate Now button and the site will direct you to choose a dollar amount, how often you wish to donate and which cause you wish to support. Donors can also choose to share a note of why you are supporting the cause.