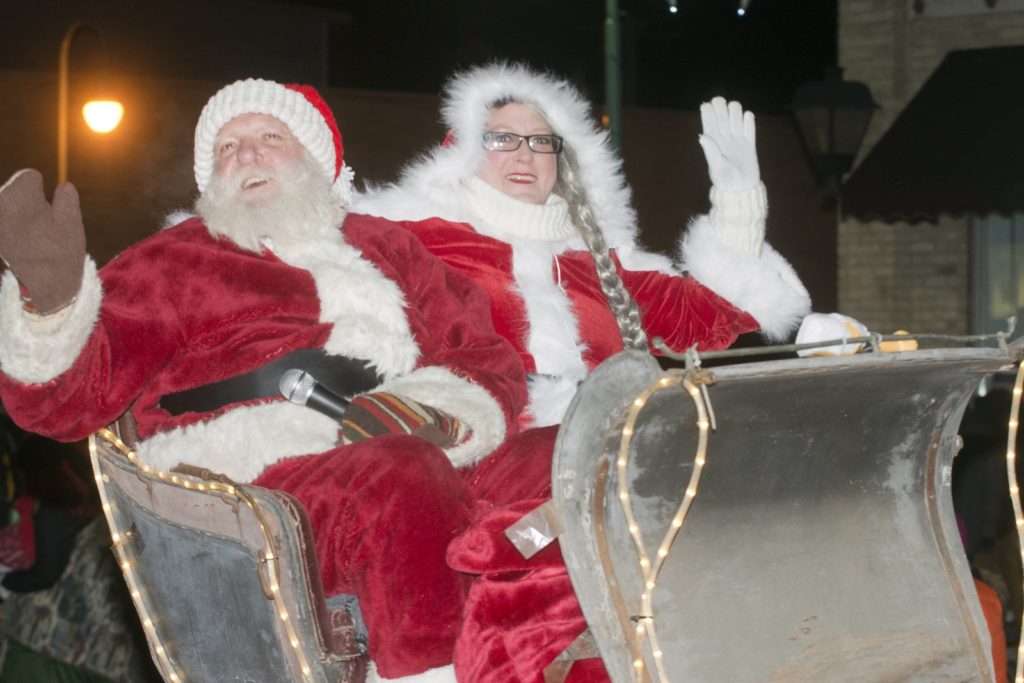 WHITEWATER, WISCONSIN, December 2, 2019 – Parade week has finally arrived! Volunteers and staff at Downtown Whitewater, Inc have been working furiously behind the scenes again this year to light up the night sky to celebrate the holiday season. The snowflakes are up downtown, the trees have been strung with lights and we're ready to celebrate with our community. Join us for activities beginning at 4 p.m. on December 6, 2019.
This year's parade theme is Peace on Earth. Entries have been pouring in for the last 6 weeks or so and we're looking at another festive and good sized parade. Don't forget to keep an eye out for the extra special guest at the end of this year's parade in his beautiful new suit. Thank you to downtown business 70×7 Trends for her beautiful work!
There are activities that are not to be missed, so please make sure that you check out the locations listed in the timeline below before and after the parade to continue the fun. We'll have a Selfie Sleigh right at the corner of 1st and Main to capture holiday memories and the beloved s'mores station right across from there. Don't forget to wander into all of your favorite downtown locations before the parade or into your favorite restaurant to warm up afterwards.
4 to 5:30 pm Santa at First Citizens State Bank
4 to 8 pm Open House at the Book Teller – Click here for details: https://facebook.com/events/s/parade-of-lights-holiday-open-/459946704643048/?ti=cl
5 to 6 pm Goody Bag pickup at Dale's Bootery (many thanks to our local Daisy Scouts for helping put these together!)
5 to 6 pm Craft time at the Discover Whitewater Offices
5:30 pm Story time at the Book Teller
5 to 6 pm S'mores just outside the Discover Whitewater Offices
6 pm Parade (Parade route is Main/Whiton to Main/Whitewater around the corner onto Whitewater and ends at the SweetSpot Cafe)
After the parade – Chili dinner at Living Word Fellowship
We are incredibly grateful to a great group of sponsors for this year's event and are so fortunate that they are part of this community: First Citizens State Bank, Whitewater Veterinary Hospital, the Book Teller, LSP Whitewater, Whitewater Family Dentristry, and Cabinets & Design by Cozette.
About the organization:
Downtown Whitewater, Inc. is a volunteer-driven organization spearheading community efforts to re-energize and enhance our historic downtown. We are community advocates and volunteers who share a passion for Whitewater. We bring people from all walks of life together to celebrate Whitewater's history and traditions, to care for our downtown neighborhood, and to inspire confidence and investments that are flowing toward an economically vibrant, engaging and exciting place in the heart of Whitewater – a place we love, a place we're proud to call home, and a place where future generations can grow and take pride in calling their own.
For more information contact:
Lisa Dawsey Smith
Board President, Downtown Whitewater, Inc.
ldawsey06@gmail.com | (262) 510-4183 – Cell
Sarah Liedtke
Associate Director
director@downtownwhitewater.com | (262)473-2200