The Whippets competed in the 2-day UWW Warhawk Invite this past weekend. Whitewater finished 12th out of 27 teams. On Friday, Whitewater finished 2nd in their pool with a record of 3-1, which punched their ticket to the Gold Bracket on Saturday. The Whippets defeated Kenosha Tremper, Beloit Memorial, and Palmyra-Eagle each two games straight. To finish pool play on Friday, the Whippets took on the Division 3, 2021 Regular Season Runner up, Waterloo. The Whippets battled by serving tough and playing solid defense, but Waterloo was able to push through and beat the mighty Whippets 20-25 and 16-25. 
On the second day of the tourney, the Whippets learned they are right there with the top teams. Even though Whitewater went 0-4 on the day, they played Union Grove, Bloomer, and Catholic Central very close. The young Whippets went toe to toe with Bloomer losing 24-26 and 21-25. Bloomer went on to take second place overall.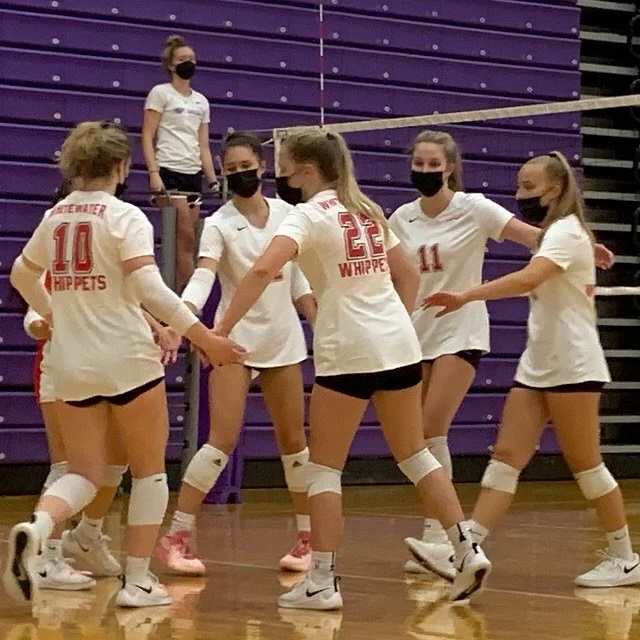 I am extremely proud of the team and how they competed through a physically demanding tournament. We had some struggles that we worked through and improved our communication.
Whitewater is actually a young team even though we return five players from last year's team which won the RVC title and the Regional Title. In our 8-9-person rotation we are starting two setters who have never set before. Calli Grosinske (9th grader) and Avery Hintz (12th grade right side hitter converted to setter) are growing leaps and bounds each time they step on the court. They are quickening up our offense and are committed to the process of developing a smartly run offense.
On the outside we have returner Kindyl Kilar who was a First Team All-Conference Selection and Second Team All-State last season. She plays at such a high level with her physical skills and mental skills. She is our leader on the court. Cali Kopecky, Second Team All-Conference player, who played defensive specialist last year has converted to being our second outside hitter. She amazes me with the growth she displays each day with her shot selection and understanding of front row nuances. She is learning when she can swing away and when she should use finesse to put the ball down.
In the middle we have Junior Jenna Pope who is new to the faster tempo of varsity. She is such a great athlete that she is making some really great plays and learning what it feels like to play fast and aggressive. Another Junior, CC Alexander, is a returner from our team last year but saw limited play due to some health-related issues, but this year she is finally able to contribute in the way we knew she was capable of. She is a very smart player and is continuing to work on her connection with our new setters. She is providing a strong, smart block and is transitioning nicely off the net to make herself available each time for our setters.
On the right side we have senior Savannah Hill. She is doing very well learning the intricacies of the game and improving each day. Our offensive development is a work in progress and she too has bought into the process of developing our scheme with our young setters. She continues to be selfless and has a positive voice within our team.
Caleigh Yang is another junior who is a returner from last year and was also a Second Team All-Conference selection. Caleigh has taken over our libero spot. She is coming into her own through playing more confidently and taking control/command in the back row.
At the UWW Invite, the Whippets went 3-5 in matches and 7-10 in sets for a 12th place finish. Whitewater is currently 4-6 overall in match play and 10-13 with sets. Tuesday, August 31st, the netters return to play honoring the seniors before the match against Wilmot. JV and JV2 begin at 5:00, and the Varsity has first serve at 6:30. Seniors will be recognized before the varsity match, which will take place at 6:05.
Results and Stat Leaders from UWW Invite:
Defeated Kenosha Tremper 2-0 by the scores of 25-18 & 25-23
Aces: Kindyl Kilar and Jenna Pope each had 2
Kills: Kindyl Kilar-10 and Cali Kopecky-3
Blocks: Cali Kopecky and CC Alexander each had 1.
Assists: Avery Hintz-11 and Calli Grosinske-7
Digs: Caleigh Yang-6 and Kindyl Kilar-5
Defeated Beloit Memorial 2-0 by the scores of 25-16 & 25-10
Aces: Avery Hintz-7
Kills: Kindyl Kilar-10, CC Alexander and Savannah Hill-2
Blocks: Kindyl Kilar-1
Assists: Avery Hintz- 8 and Calli Grosinske- 5
Digs: Kindyl Kilar-5 and Cali Kopecky-5
Defeated Palmyra-Eagle 2-0 by the scores of 25-16 & 25-10
Aces: Jenna Pope and Kindyl Kilar with 4 and Avery Hintz- 3
Kills: Kindyl Kilar-10 and CC Alexander-6
Assists: Avery Hintz- 7 and Calli Grosinske- 4
Digs: Caleigh Yang, Cali Kopecky, Kindyl Kilar and Calli Grosinske all had 4
Lost to Waterloo 0-2 by the scores of 20-25 & 16-25
Aces: Avery Hintz-3 Jenna Pope-2
Kills: Kindyl Kilar-10
Blocks: Jenna Pope and Kindyl Kilar both had 2
Assists: Avery Hintz-5 and Calli Grosinske- 5
Digs: Avery Hintz- 7, Caleigh Yang- 9 and Cali Kopecky- 6
Lost to Union Grove 0-2 by the scores of 25-27 & 16-25
Aces: Jenna Pope and Cali Kopecky each with 1
Kills: Kindyl Kilar-12
Blocks: Jenna Pope and Kindyl Kilar both with 1
Assists: Avery Hintz- 3 and Calli Grosinske- 8
Digs: Kindyl Kilar- 9, Avery Hintz- 8, Caleigh Yang- 7
Lost to Catholic Central 1-2 by the scores of 22-25, 25*-21 & 15-17
Aces: Caleigh Yang, Jenna Pope & Cali Kopecky each had 2
Kills: Kilar- 12 and Cali Kopecky- 3
Blocks: Avery Hintz and CC Alexander both with 2
Assists: Calli Grosinske-12, Avery Hintz-4
Digs: Kindyl Kilar- 12, Cali Kopecky-11 and Caleigh Yang with 12
Lost to Bloomer 0-2 by the scores of 24-26 & 21-25
Aces: Savannah Hill and Cali Kopecky both had 1
Kills: Kindyl Kilar-12
Blocks: Avery Hintz-2
Assists: Calli Grosinske-11 and Avery Hintz-2
Digs: Caleigh Yang-11, Avery Hintz-6 and Cali Kopecky- 6
Lost to Merrill 0-2 by the scores of 17-25 & 15-25
Aces: Caleigh Yang, Jenna Pope and Kindyl Kilar each had 1
Kills: Kindyl Kilar with 8
Assists: Avery Hintz-5 and Calli Grosinske- 3
Digs: Kindyl Kilar- 8 and Caleigh Yang- 4
Article Submitted by Kathy Bullis
Whitewater High School Head Volleyball Coach
kbullis@wwusd.org