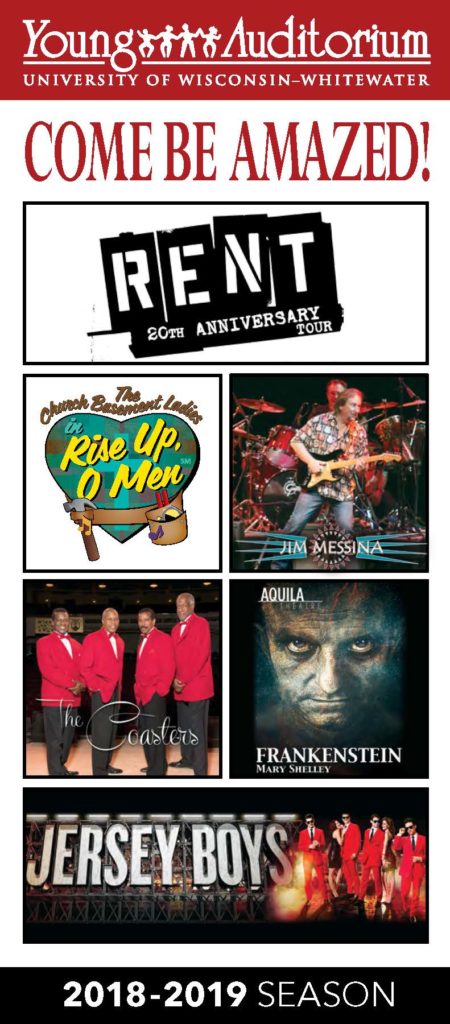 With world-renowned musical acts, standout theatre productions, and a pair of Broadway's biggest hit musicals, there is truly something for everyone in the Young Auditorium 2018-2019 Season.
The season kicks off with Young Auditorium's annual World Music Festival and is highlighted by appearances from classic rock icon Jim Messina, Rock and Roll Hall of Fame inductees The Coasters, a brand new title from The Church Basement Ladies, and national touring Broadway productions of Jersey Boys and RENT. Country music fans will love Country Royalty: A Tribute to Hank Williams and Patsy Cline, and classical music lovers will not want to miss Bach's Christmas Oratorio as performed by the Wisconsin Chamber Choir with a full orchestra, or Beethoven's 9th as performed by the Lake Geneva Symphony Orchestra. With over 20 performances spanning the worlds of theatre, music, dance, comedy, and family shows, Young Auditorium is truly bringing you the very best in the world of entertainment.
Tickets for all Young Auditorium 2018-2019 shows go on sale Friday, June 8th at 9:30 am. A full event listing including dates, time, prices and purchase details, is available at www.youngauditorium.com. Use the site's interactive ticket experience to pick your exact seating location for every show and purchase your tickets online.
SEASON HIGHLIGHTS
Jim Messina – October 20th, 2018
As one-half of the extremely successful classic-rock duo Loggins & Messina, co-founder of the country rock band Poco, and a key member of Buffalo Springfield, Messina has used his masterful guitar playing and smooth, familiar voice to carve out an illustrious career. Messina's talents will be on full display at Young Auditorium as he and his band perform some of his greatest hits like, Your Momma Don't Dance, Crazy Love, and House at Pooh Corner.
The Coasters – November 17th, 2018
With a string of instantly recognizable hits like Yakety Yak, Charlie Brown, and Searchin, The Coasters helped define the rhythm & blues and rock and roll sounds of the 1950s and 1960s. Combining good-humored storytelling with impeccable timing and harmonies, The Coasters have the distinction of being the very first group EVER inducted into the Rock and Roll Hall of Fame.
Jersey Boys – February 7th, 2019
Broadway's Tony Award-winning Best Musical takes you behind the music and inside the story of Frankie Valli and The Four Seasons, from the streets of Jersey to the Rock and Roll Hall of Fame. Featuring the hit songs Sherry, Big Girls Don't Cry, Rag Doll, Oh What a Night and Can't Take My Eyes Off You, Jersey Boys ran for 11 record-breaking years on Broadway becoming the 12th longest-running show in Broadway history.
Church Basement Ladies – 'Rise Up, O Men' – March 3rd, 2019
The Church Basement Ladies are back at Young Auditorium in a brand new production! 'Rise Up O Men' gives the gents a chance to shine in the latest installment of the Church Basement Ladies musical comedy series. As the church prepares for participation in the town's 1964 Centennial Celebration, we get to see their coming and goings from the eyes of the menfolk, who have their own problems to solve.
Country Royalty: A Tribute to Hank Williams and Patsy Cline – April 6th, 2019
Two of country music's biggest legends appear on the same stage at the same time when award-winning
musicians Jason Petty and Katie Deal pay tribute to Hank Williams and Patsy Cline. In a show like no other,
Petty and Deal honor these music icons by performing over 20 of their chart-topping hits with a live band!
Hear the songs and stories of Hank and Patsy as performed by two of the country's finest entertainers.
RENT -20th Anniversary Tour – April 28th, 2019
Pulitzer Prize and Tony Award®-winning masterpiece RENT returns to the stage in a vibrant 20th anniversary touring production. With its inspiring message of joy and hope in the face of fear, RENT follows an unforgettable year in the lives of seven artists struggling to follow their dreams without selling out. The
timeless celebration of friendship and creativity reminds us to measure our lives with the only thing that truly matters-love.