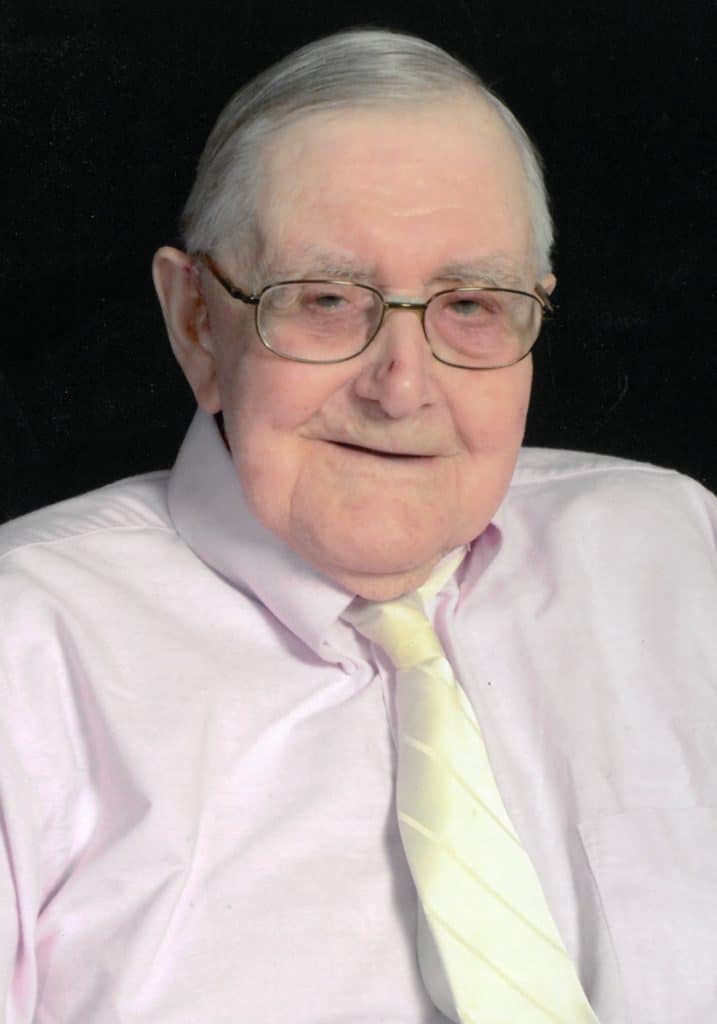 Wilfred Arthur Ludeman, 97, of Whitewater, died on March 31, 2021 at his home.
Wilfred was born on June 12, 1923 in LaGrange, WI to Arthur and Lillian (Romey) Ludeman.  He graduated from Whitewater City High School in 1941. On June 20, 1946, Wilfred married Jean Orcutt. She preceded him in death on September 28, 2001. Wilfred owned and operated a dairy farm, drove school bus for 17 years, and worked for many years for Seasonal Services where he took great pride in the flowers and lawn at First Citizens State Bank. Wilfred was an active member of St. Patrick Catholic Church and served as an usher for 72 years.  He was also active in the FFA and 4-H. He and Jean also cared for many foster children over the years.
He is survived by his children: Mary Hoof; Kathy (Dan) Wood; John Ludeman; Patricia (Thomas) Korslin; Becky Ludeman; Kris Ludeman; son-in-law Michael Annessi; special family friend Laura Johnson; grandchildren: Matthew (Jennifer) Hoof; Sarah (Luke) Hein; Benjamin (Kelly) Ludeman; Michael Ludeman; Kate (Michael) Kennedy; Meg Tindal; Steve (Mariah) Korslin; Alexis and Alyssa Rodriguez; great-grandchildren: Elizabeth Freeman; Hailey and Caden Hoof; Jack Hein; Brock and Sophia Ludeman; Nathan and Cora Kennedy, Natalie and Jaxson Tindal; great-great grandson: Beckett Chaplin, and several others he thought of as family. He was preceded in death by his parents; wife; sister, Caroline; daughter, Jean; daughter-in-law, Patsy; granddaughter, Vicki Jo; brother and sister-in-law, Frank and Bertha Ludeman.
A Mass of Christian Burial will be held on Tuesday, April 6, 2021 at 11:00 a.m. at St. Patrick Catholic Church 1225 W. Main St. Whitewater, WI 53190.  Burial will follow at Calvary Cemetery in Whitewater.  A visitation will be held at the church on Tuesday from 10:00 a.m. until the time of the service.  For your convenience, mass will also be live streamed on Tuesday. Please go to nitardyfuneralhome.com and follow the link on Wilfred's obituary.
Following church and city protocols, masks are required and social distancing observed. Because seating is limited, please email Becky at ludemanb@gmail.com if you are planning to attend in person for seat availability. There will be no reception following the graveside service. In lieu of flowers we suggest a memorial in Wilfred's name to St. Patrick Catholic Church: Music and Liturgy or to the Parkinson's Foundation. Online condolences may be made by visiting www.nitardyfuneralhome.com