Information Provided by Chad Carstens
Whitewater High School Head Cross Country Coach
ccarstens@wwusd.org
UPDATE: Since we posted the meet information on Monday, April 26th, we have had three teams opt-out from our sectional on Tuesday, April 27th. In addition, several teams are bringing incomplete teams which has dropped us below the 76 runner threshold that has been approved for the WIAA State Meet. Lastly, the weather forecast has indicated that it is going to be near 80 degrees in Whitewater on Saturday. This new race schedule is also an attempt to reduce the chances of medical emergencies and avoid the hottest point of the day. For these reasons, we have been given clearance to run one race per gender. We will not move the beginning part of the schedule as we need to accommodate teams traveling a far distance. Box assignments will be changing and Coach Carstens will update the Meet Information when those become available.  
Whitewater High School is hosting one of four Sectional Cross Country meets taking place around the state on Saturday, May 1st. There will be a $6 per person charge to enter the meet.
10:30 am: Spectators/Buses can arrive and begin unloading
11:00 am: Course Opens for Preview
12:00 pm: Girls' Race
12:45 pm: Boys' Race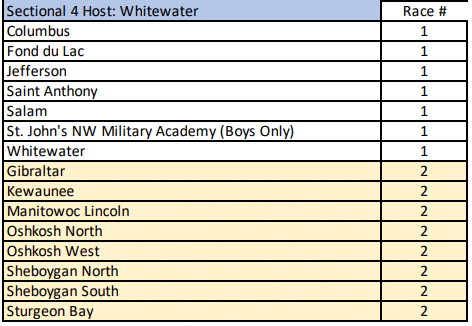 Please check out this meet information for race times and other pertinent information.
Check out the digital course map that will highlight how the traffic will flow, spectator routes, etc.
You can also preview the course faster than the world record pace by watching this video of the course.
The top two teams and top 5 individuals not on those qualifying teams will earn a trip to the WIAA State Meet on Saturday, May 8th.