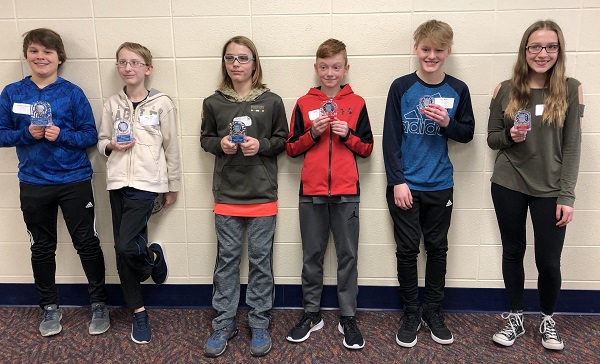 Congratulations to the 7th grade Math 24 team for doing an awesome job at the meet held on February 15 at Whitewater Middle School. Students were challenged with two rounds of Math 24 fraction cards followed by two rounds of Math 24 decimal cards.
Special congratulations go out to Emerson Ellenwood for winning the 1st place individual trophy and to Jared Apgar for winning the 2nd place individual trophy. Jefferson students, Patrick Traver and Aidan Turner, worked hard and earned the 3rd and 4th place individual trophies. 5th and 6th place trophies went to Whitewater's Silas Baker and Leah Newmann respectively.
Overall, Whitewater had more total points than any of the other schools participating. Jefferson came in second. Clinton and Waterloo followed. Additional Whitewater Team members were Noah Coleman and Nick Wilson. They also did very well. Andrea Alcala was on the team as an alternate.
We are very proud of the entire team! Go Whippets!