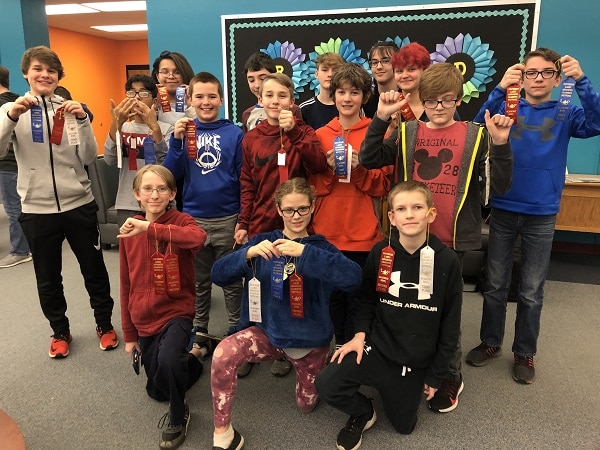 Congratulations to the fifteen 6th, 7th, and 8th-grade students who represented Whitewater Middle School at the Southern Lakes Advanced Learners Network Academic Bowl on March 12th in Fort Atkinson. Five school districts participated. Whitewater Middle School did very well earning 2nd place overall behind Fort Atkinson, the 1st place winner. Jefferson took 3rd place followed by Waterloo and Johnson Creek.
The following Whitewater students earned special recognition:
In Language Arts
Quinton O'Toole – 3rd place, 6th grade
Henry Gehrenbeck – 1st place, 7th grade
Liz Ngabo – 1st place, 8th grade
In Science
Alex Clarksen – 3rd place, 7th grade
In Social Studies
Angela Hudec – 3rd place, 6th grade
Emerson Ellenwood – 3rd place, 8th grade
In Math
Ashutosh Kutal – 3rd place, 6th grade
Andrew O'Toole – 3rd place, 7th grade
Jared Apgar – 2nd place , 8th grade
Whitewater Team 2 (Emerson Ellenwood, Andrew O'Toole, Quinlan McCarthy, Angela Hudec, and Ashutosh Kutal) placed first in the Current Events portion of the competition.
Other Whitewater team members included:Matthew Carollo, Casey Schlicher, Zoe Olson, Silas Baker, and Viktor Goldsmith.
Congratulations to all of the participants for their contributions to the team's overall success and a special thank you for doing a great job representing Whitewater and Whitewater Middle School. Well Done!