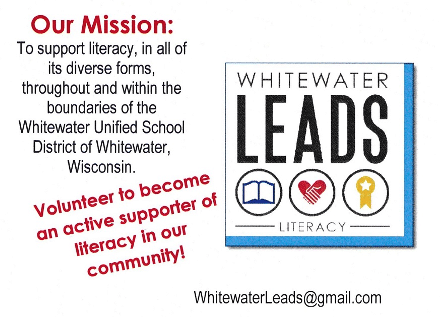 (Whitewater Leads press release) Whitewater Leads, Inc., a nonprofit organization which supports and promotes literacy in the Whitewater area, welcomes community members to its Annual Meeting on Thursday, May 6 at 7:00 p.m. in the Community Room of the Irvin L. Young Memorial Library.
Whitewater Leads' partnership with Dolly Parton Imagination Library means that every child from birth to the fifth birthday in the Whitewater School District area is eligible to receive a free age-appropriate book every month. Over 250 children currently receive their monthly books.
During the past year, Whitewater Leads has supported the elementary schools by purchasing books and literacy supplies for children in 2020 when schools were not doing in-person instruction and during the summer. In a joint project with the Irvin L. Young Public Library, a series of Virtual Read Alouds for young children and their parents was recently held.
People interested in learning more about the work of Whitewater Leads or volunteering are encouraged to come to the Annual Meeting. If you come, please wear a mask to comply with the Library's policy. For more information on Whitewater Leads, email whitewaterleads@gmail.com.
If you are interested in registering your child today for the free monthly books, you can do so at https://whitewater-leads.org/register,