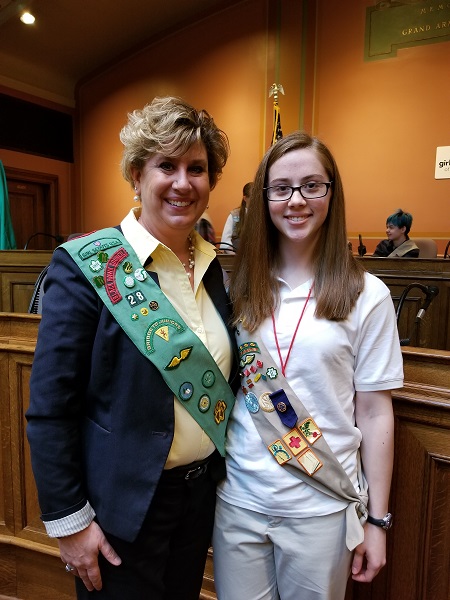 On March 7, 2018, Scouts gathered in Madison for Wisconsin Girl Scout Advocacy Day at the State Capitol. Whitewater HS Junior Morgan Radaj was one of four chosen out of 66,000+ Girl Scouts in Wisconsin to speak about the impact that GS has had on her life.
Seated next to Marci Henderson, CEO, Representative Joan Ballweg, and Senator Jennifer Shilling, Morgan spoke primarily about her GS Gold Award Project, called Sharing is Caring. She completed this project her freshman year of high school and is focused on helping with hunger both locally and internationally. Morgan's goal was to find ways to share extra food with those who need it instead of letting food go to waste. Hoping to inspire younger girls, Morgan also talked about her latest mission trip to Haiti.
For her Gold Award project two years ago, on April 2, 2016, Morgan coordinated an international dry food packing event at the Whitewater HS, where nearly 500 volunteers packed 108,564 meals that were later sent to Kenya, Africa. It took almost one year to unite different civic, faith, school and community groups to fundraise for the $24,500 needed to bring that event to Whitewater. Locally, Morgan collected additional fresh produce for the Whitewater Food Pantry during the summer of 2016 by encouraging local backyard gardeners to share their extra produce and she built a drop box that was located at the weekly Tuesday City Market.
Following the introductions and speeches, the girl scouts in attendance were able to spend the day visiting some of the senators and getting a tour of the capitol.