On Saturday, January 8, the Whitewater Wrestling Team hosted a huge wrestling tournament at Whitewater High School called the WWCA JV Challenge Series Regional. This is a tournament sponsored by the Wisconsin Wrestling Coaches Association and provides the junior varsity wrestlers an opportunity to compete for a state championship through the coaches' association. It is a great opportunity for the JV wrestlers around the state to get some extremely great competition.
Whitewater was the host for 28 schools traveling from as far away as River Valley and Union Grove. The tournament is all one division, so students from Division 3 to Division 1 all descended into Whitewater on Saturday. These 28 schools brought 263 wrestlers to compete in this event, with as many as 26-person brackets to work through, in an attempt to place in the top four and earn the right to advance to the state championships in Wausau.
The Whitewater team did very well all day, from Friday evening with setting up six mats, Saturday competition, and then finally the clean-up of the entire area on Saturday evening. On the mat, Whitewater wrestlers did very well. There were not any disappointments as far as how the team competed. Sure, there were disappointments in not qualifying for the top four, but there was outstanding competition to work through, and nearly everyone secured at least one win on the day.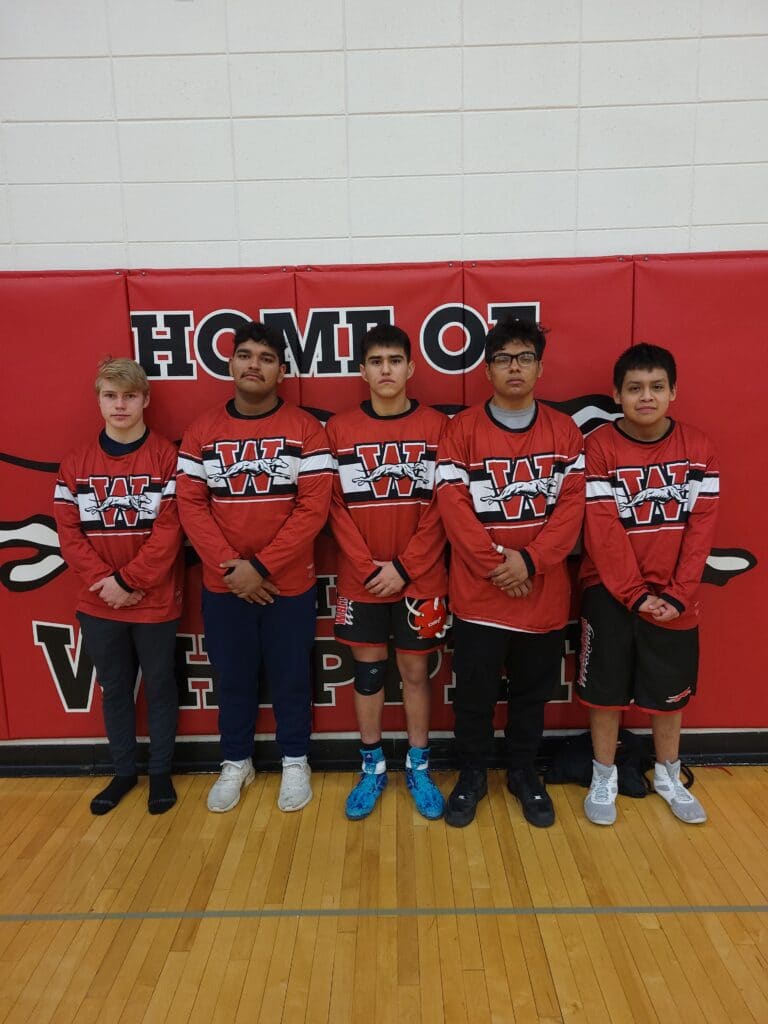 Highlights of the day included the Whippets having three team members place in the top two and one third place, all qualifying for Wausau. There was a 5th member of the team who took 5th and will be an alternate in case someone ahead of him cannot go.
Traysen Thomason took second place and lost a tough overtime match in the finals. He was full of energy all day as he hammered his way to the finals. He had his goals set all day for heading to Wausau.
Sebastian Cuellar also took second, losing a tough match in the finals. In the semifinals, he wrestled extremely well, getting a victory that went into three overtimes. 
Yovanni Rojas-Reyes claimed second after a heart breaker in the finals. He wrestled very well all day, adjusting to every opponent's style.
Hector Arnodo earned third place Saturday after his match against Janesville Parker. Hector all day was looking to score as many points as possible every match. He did what he said, and won by tech fall in his third place match. 
Armando Villarreal took 5th at 220. He had a tough road through the wrestle backs but sealed the deal by pin over Muskego. As stated, Armando is an alternate, so if a competitor who placed ahead of him is unable to go, he will have the opportunity.
As Coach Bruski stated, "Overall everyone seemed to wrestle well. We had good matches and bad matches, and everyone did their part for the team. Effort was far from depleted as the day turned into a long one. I think the overall goal was for everyone to place and get the opportunity for a fun overnight trip to Wausau. I'm looking forward to heading up north with wrestlers in a few weeks as it gets more experiences for our JV program. The Wausau tournament is tough and just what we need as we are nearing the last half of wrestling season. So, we are looking forward to taking this momentum from this weekend and keeping it going."
As an entire program the coaches could not be prouder of the effort given by the team, wrestlers and managers, putting this event on. The group not competing had the daunting task of working tables, which can get to be a very long day for them. They did absolutely outstanding with their job, and when the tournament was over, did an outstanding job with the clean-up of the six mats that were used and picking up garbage in the stands. The wrestlers and managers should be commended for giving up an entire Saturday so Junior Varsity wrestlers around our area had this opportunity. 
Article and Photo Submitted by John Schimming
Whitewater High School Head Wrestling Coach
jschimming@wwusd.org