The Whitewater Arts Alliance (WAA) Board of Directors welcomed new board members Kristen Burton, Alfonso Cervera, Art Thompson and Rachel Wood, bid farewell to Mike Dugan and Audra Lange, and shared the successes in 2019.
Megan Matthews remains as President, and Bob Mertens as Vice President. Rachel Wood was voted in as the Secretary, and Art Thompson as Treasurer. Sylvia Linton will continue to serve as the Membership Secretary.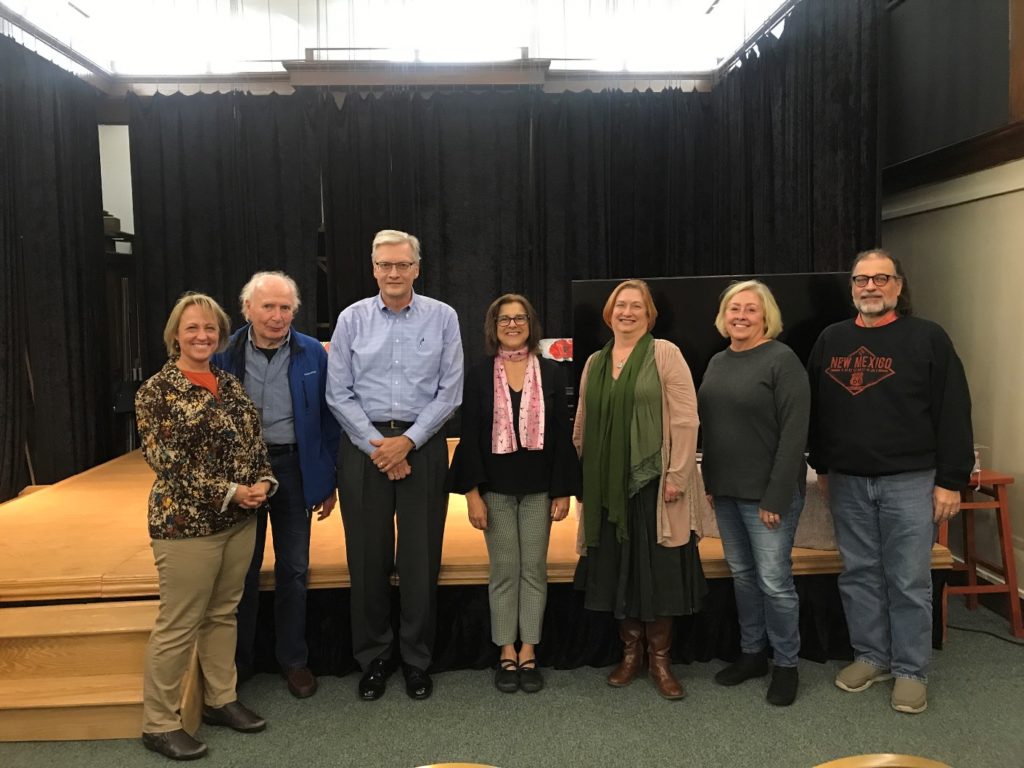 Matthews said, "We have had a wonderful year, with high-quality shows and record-breaking attendance for our Savory Sounds concert series. We have our 2020 season booked, and will look forward to working with our members to celebrate arts and culture in our community!"
The WAA announced that the 2020 Public Art Project is being planned. Sponsorships of the artwork again this year will make it possible for artists to participate without any cost to them.
During 2019, there was an exhibit in the gallery for every month that the CAC was open. These exhibits drew artists from a broad area of southeast Wisconsin, as well as a few from other states:
February – The Art of the Quilt
March – Janet Nelson Exhibit
April – Whitewater Unified School District Exhibit
May – Karolyn Alexander Exhibit and Workshop
June – Wisconsin Regional Arts Program Exhibit and Workshop
July – 10th Annual Fran Achen Photo Contest
August – Mixed Media – Part Two!
September – "The Road Less Traveled"
October – Cambridge Artists Society
November/December – Annual WAA Members' Exhibit
Five Savory Sounds concerts created the biggest season ever. The City provided picnic tables and took care of the grounds, and Whitewater Community Television helped with audio. Savory Sounds sponsors were Fairhaven Senior Services, First Citizens State Bank, Olm & Associates, Fort Community Credit Union, and PremierBank.
Savory Sounds concerts included:
June Mike Hackett Jazz Quartet with vendor Casual Joe's had over 95 attendees VooDooHoney Brass Band with vendor Rocky Rococo had over 100 attendees Tapestry with vendor Subway had over 110 attendees
July Amanecer Y Mas (Marco Wence Trio) with vendor La Preferida had over 140 attendees The Brothers Quinn with vendor The Sweet Spot had over 60 attendees despite the rain!
Other events included: A dance performance put on by UW-Whitewater students and UW-W Inclusive Excellence Dance Faculty; Two major workshops by and for watercolor artists; Three technique demonstrations during the Mixed Media exhibit; A photography workshop by Jeff McDonald and Everett Long; A summer popup show with the Whitewater Historical Society's Heritage Days event – 100 artists and visitors participated and came through the Cultural Arts Center during the House Tour; and a collaboration with the UW-W Roberta's Art Gallery for an additional WAA Members' show.
In 2019 alone, the WAA hosted more than 1,246 individuals at the CAC for exhibits, Savory Sounds, workshops, and other programs. Volunteers donated 715 hours as docents, and these hours do not include other volunteers – cleaning, setting up Savory Sounds, installing exhibits, publicity, etc.
The public art project was a wonderful success this year with the theme of "Portals to the Past, Portals to the Future" with about 30 participants. The WAA also partnered with the Tourism Council and Strive On to put the information about each entry on an app for phones.
The Fran Achen Photography Contest was held again and was most successful. The show continues to entice photographers from other communities to exhibit their work as well.
The WAA continues to appreciate the support of the City of Whitewater and local businesses for recognizing the importance of the arts in the community.
The mission of the Whitewater Arts Alliance is to promote the visual and performing arts through an alliance of artists, individuals, educational resources, and organizations to promote creativity and diversity that will serve to educate and enrich the lives of the residents of the Whitewater community and surrounding areas.