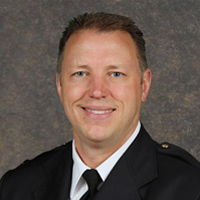 The Police and Fire Commission of the City of Whitewater has selected Aaron M. Raap for the position of Chief of Police.
Raap will replace Chief Lisa Otterbacher, who is retiring June 1st. Raap will plan to begin with Whitewater in early June
After weeks of conducting a national search, phone interviews, and Skype interviews, the decision was down to two candidates. Raap was selected along with finalist Michael J. Scott for a full day interview Thursday, March 1st. The day consisted of interviews with the Police and Fire Commission, City Staff, City Council and a meet and greet for media and citizens.
The Police and Fire Commission made the decision and announced Raap as the new leader of the police department Thursday night.
Raap most recently served as the Operations Manager in Security for Ascension Health in Southeastern Wisconsin but his experience as a law officer for over 26 years with the Milwaukee Police Department was a great attribute when making the decision to bring him to Whitewater.
"We are thrilled that Aaron Raap will be the next Chief of Police for the City of Whitewater," Police and Fire Commission President, Glenn C. Hayes stated. "Throughout the entire process and pool of candidates from across the country, Aaron stood out. He has a remarkable of depth of experience in law enforcement, outstanding leadership skills, and a truly genuine demeanor."
While in Milwaukee, Raap worked closely with four college campuses and understands the needs for a city with both citizens and students. "Aaron has worked and led in a wide variety of ethnic populations, businesses and neighborhood settings, including having universities within his district," stated Hayes. "He is committed to unbiased and ethical policing. The feedback we received from those involved in the interview process and the meet and greet was overwhelmingly supportive of Aaron. We look forward to welcoming him."
Raap holds both a bachelor's degree in Administration and a Master of Science degree in Organizational Leadership and Quality from Marian University, Undergraduate studies from the University of Wisconsin-Milwaukee; and a degree from Northwestern University- School of Police Staff and Command and the Senior Management Leadership Program.
The Police and Fire Commission extend gratitude to the various constituencies involved with the success of the hiring process including the City of Whitewater staff and City Manager, Cameron Clapper, sworn and civilian personnel of the Whitewater Police Department, representatives of UW-Whitewater and the Whitewater Unified School District, Jefferson County Sheriff Paul Milbrath, Walworth County Sheriff Kurt Picknell and City PR & Communications Manager, Kristin Mickelson.
"We also could not have handled this process at such a professional level, saving the City taxpayers at least $10,000 or more, without the masterful assistance of the City HR Coordinator, Judy Atkinson," said Hayes.